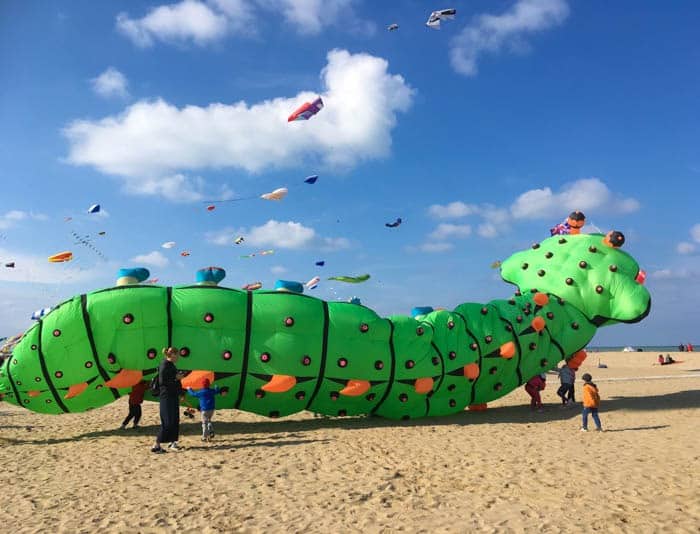 The joy of kites at the Rimini Kite Festival
In April we drove over to Rimini on the East coast of Italy to visit some friends.  We were incredibly lucky to hit town on the weekend that the once a year kite festival was on; and not only that, there was a perfect strong and steady wind blowing off the sea that lifted all the enormous kites high into the sky. Rain showers keep passing over, and the sun umbrellas and lounge chairs were still locked away so we walkers, and many very excited dogs, could enjoy the entire beach.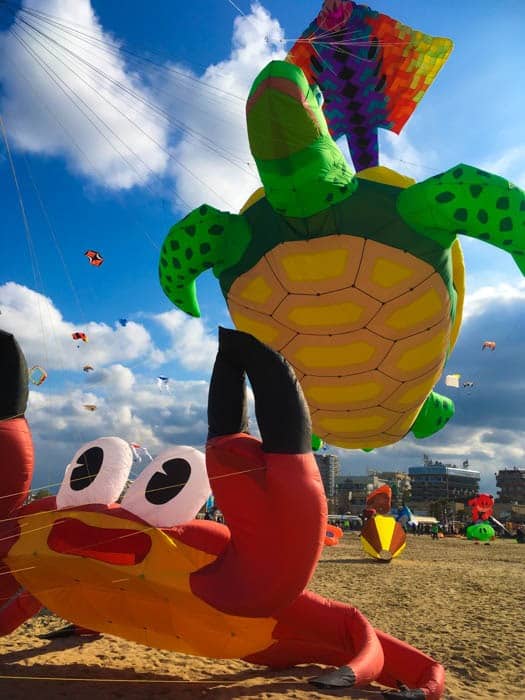 How do they make their kites fly so well?
Most of the kites were not the traditional diamond-type that I used to make as a kid, but were almost like balloons made in all sorts of fantastical shapes. What makes these crabs, pink dragons, telephones, and caterpillars into  kites is that they fill with air and lift off the ground purely using the force of the wind. My kites never flew as well as these, even in the wind we sometimes get on the farm that is so strong you can lie back in it and not fall over.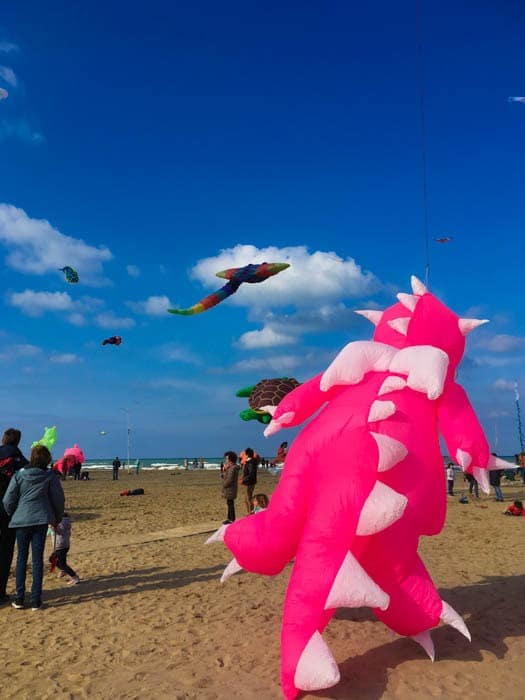 It was very difficult to choose which photos to put up as there were so many weird and wonderful kite shapes. The pink dragon above didn't seem to really want to lift off.  He seemed more interested in keeping his feet on the ground and watching how the others did it.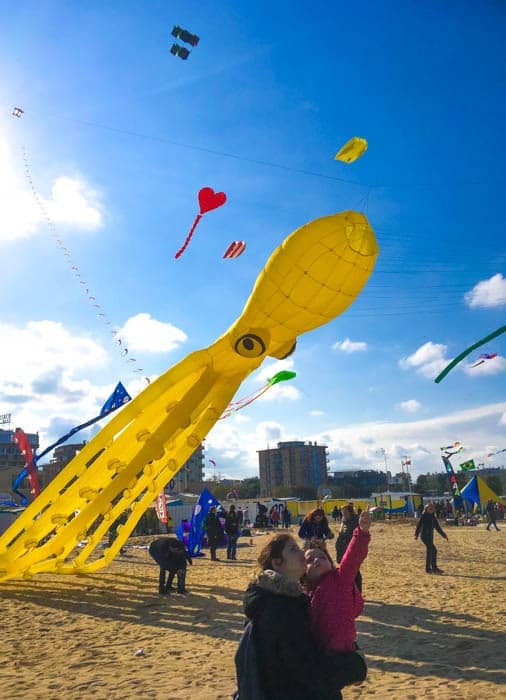 Kite flying always whisks me back in time
There's something very soothing about the rustling and swooping noise the kites make when they're flying. It always takes me back to my childhood: running along as fast as I could with a kite trailing behind me, and the magical feeling I got when it stopped bumping along the ground and suddenly lifted high into the sky. I can understand why people are so passionate about making and flying kites!  At the Rimini festival this year, there were around 200 "kiters" from over 30 different countries that gathered for the long weekend of wind-hustling.  How do they check these kites in on the plane?  Some of them would definitely rate as over-sized luggage!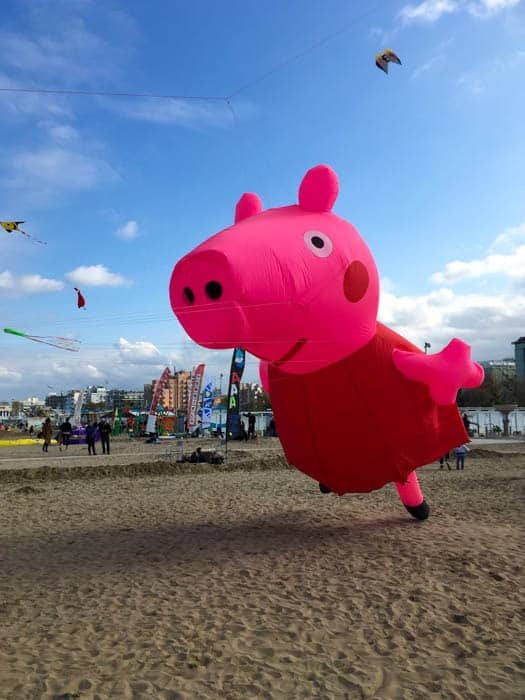 It's worth going to Rimini to see the old town too!
Although I am not showing you photos of Rimini's old town in this post (the kites are just too spectacular!), it is definitely worth tearing yourself away from the beach to go wandering around the old town.  I had no idea that it was so pretty!  It's easy to spend a day exploring the town, and stopping every now and then for a delicious piadina, a delectable coffee, or a creamy gelato.  I'll be telling you all about the specialty of Rimini, the piadina, in a post coming your way very soon!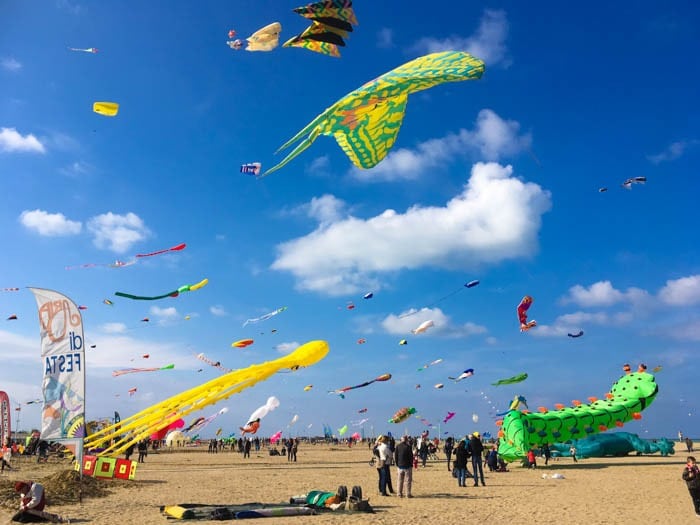 Kites galore!
There was a kite to suit every taste, and every preference that a person could have.  You like squid?  Here they were in quantity, fluttering their tentacles around;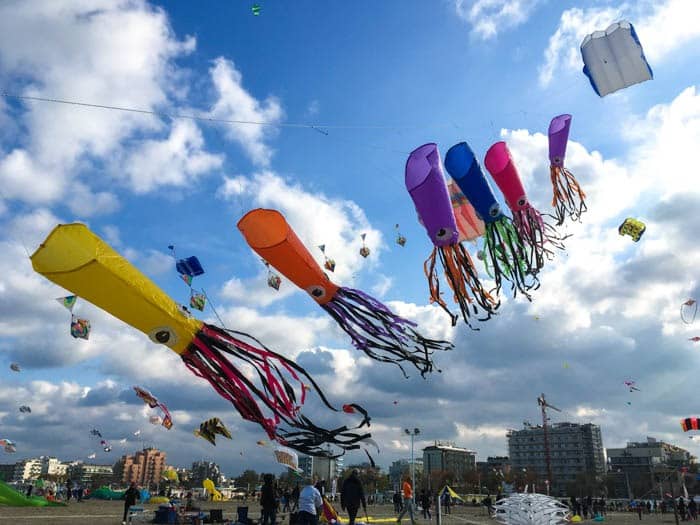 You are more into space (or starfish?)?  Here, were startled-looking stars rotating and whipping around as though they were trying to escape their tethers and take off into space;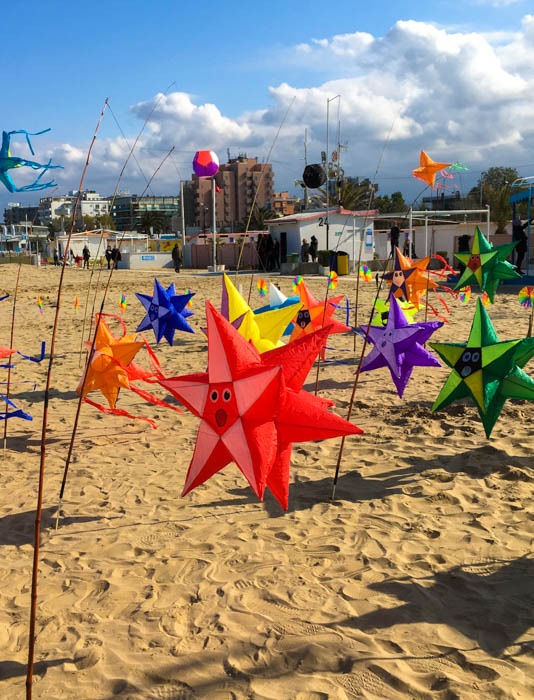 Or are you more into ghosts, or even old telephones?  Well, here were the kites for you to admire!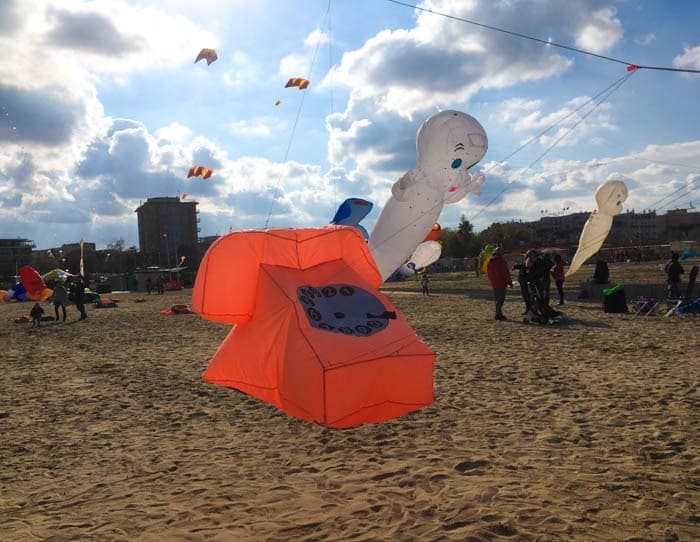 Hats off to the kite masterminds!
In the photo below, you can see the ballast that is needed to keep these giants from flying away. It seems to be a lot of work to set one of these kites up and make it fly.  I can't even imagine the work that goes into making these huge kites, and getting them to a point that they fly perfectly.  No wonder the kiters want to show off their creations!  I did feel a little sorry for the wife of one of these men (they all seemed to be men, which was another puzzle for me. why do you think that is?).  She was sitting in a deckchair with her Yorkshire terrier on her lap for the whole windy afternoon, while her husband flew a number of these large animals.  I bet that's what she spends most of her weekends doing.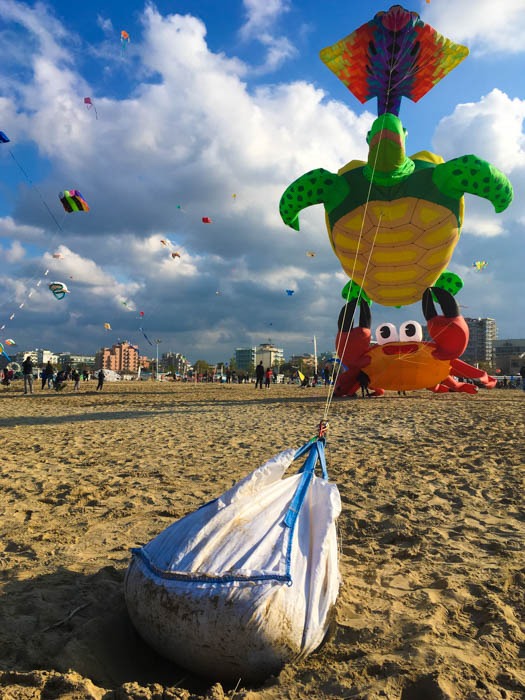 Almost like being there!
You can get a real feel for how cool the festival was in the video below.  Watch out for the pointy-headed man.  I have so many questions that I'd like to ask him, the first being, "Why?".
By Lisa Watson