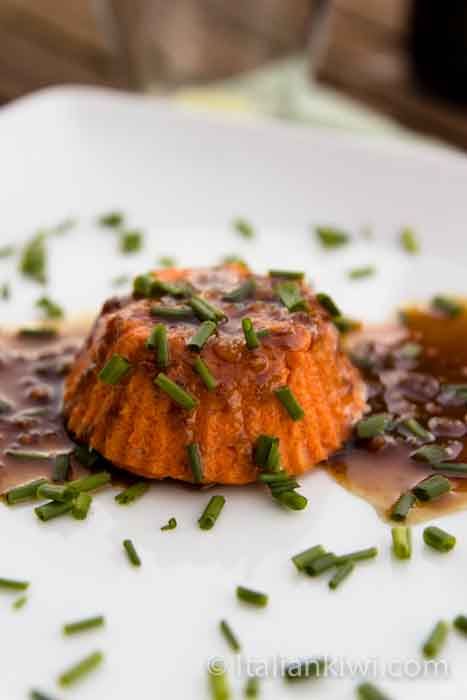 Excuses and Anchovies
I know it's been quiet for a couple of weeks.  Sorry about that.  Thanks to two weeks of school holidays in which there were sick kids, one after the other, just to make sure we spent the whole first week at home, then a week of holidays in Italy, I didn't have time to come and visit my blog.  This recipe is one that I'm pretty proud of as I made it up myself!  I had some foodie-type people coming for dinner and wanted to make something special.  This roasted red pepper flan with anchovy sauce is inspired by a traditional dish called Bagna Caoda in Piemonte, Italy.  It's kind of like a fondue, but the sauce is made of anchovies and tonnes of garlic.  You dip Winter vegetables, such as red peppers, Jerusalem artichokes, cardoons and celery into the hot sauce and eat them.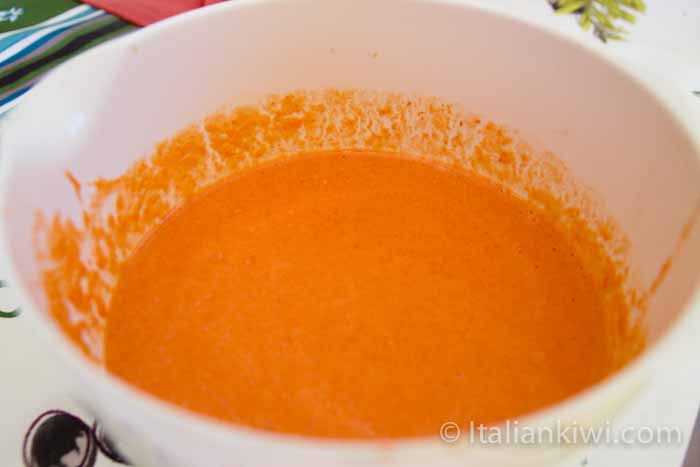 A terrible confession and what to do if you don't like anchovies
I have to admit that I actually HATE anchovies and if people with you eat bagna cauda, you will suffer from the smell right into the next day.  It's one of those everyone-or-nobody kind of meals!  I remember when my Italian husband insisted (a long time ago) that even though I didn't like anchovies, I would like bagna caoda, since after all the simmering of the anchovies and garlic, the anchovies don't taste like anchovies anymore. I trusted him, and HE WAS WRONG! It tastes totally like anchovies, which is fantastic if you like them. Anyway, these red pepper flans are very delicate and if you don't like anchovies, you can make the sauce for your guests and a bechamel sauce to drizzle over the red pepper flans for you. If you DO like anchovies, you're in for a real treat as the red peppers and anchovy-garlic sauce are a perfect match!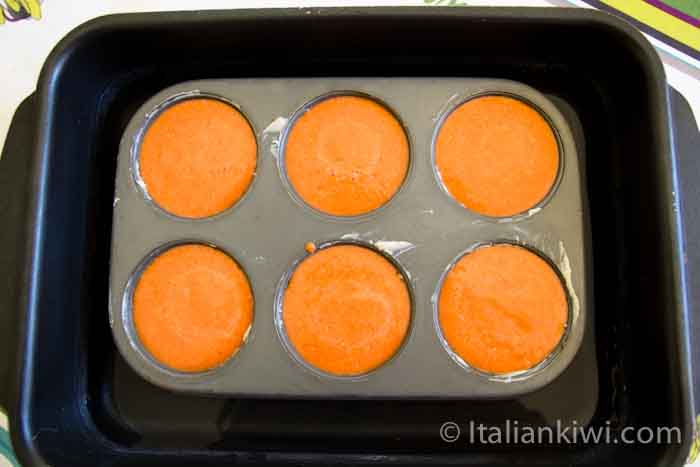 What forms to use and how to roast peppers
Flans seem so sophisticated, but are incredibly easy to whip up and serve at a dinner party.  The trickiest thing in the recipe is getting the flans out of the muffin tin.  To  make it a little easier, grease the wells really well with butter or oil and place a circle of baking paper at the bottom of each well.  You can also use those silicon forms that come in all shapes and sizes.  They're easier to un-mold, and then you can have almost any kind of fanciful shape you like: a star, a teddy-bear, a house……yes, I've actually seen those shapes in silicon. To make these flans, you just need to throw the red peppers in the oven to roast a day or two before you actually want to make the flans.  I've found that if you roast them whole, then let them cool, it's really easy to peel off the skins.  You don't need to do all that putting them in a plastic bag thing, which is probably not so good for you anyway as the plastic molecules probably go into the red peppers.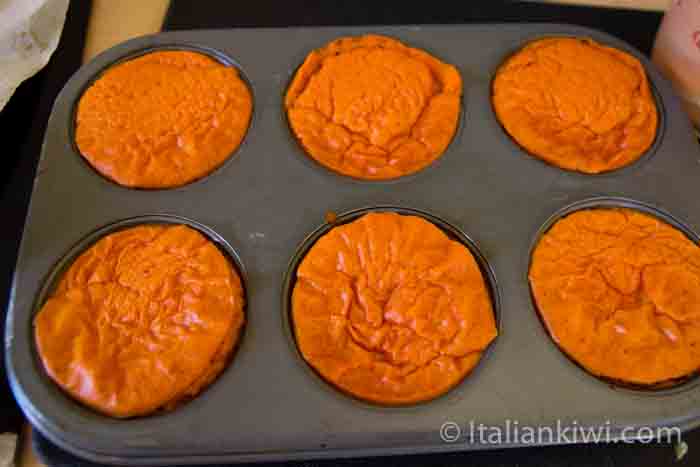 Travel Photo of the Week 
This week the photo comes from the home of Bagna Caoda: the Piemonte region of Italy.  This photo is taken in Jouvenceaux, in Val di Susa. It  is actually Italian, although it has an incredibly french name!  The french border is 20 minutes away, and you can see forts on top of the mountains in the surrounding area which have been used for many years during various border altercations. Now it's a peaceful place since the Italians and the French get along pretty well these days.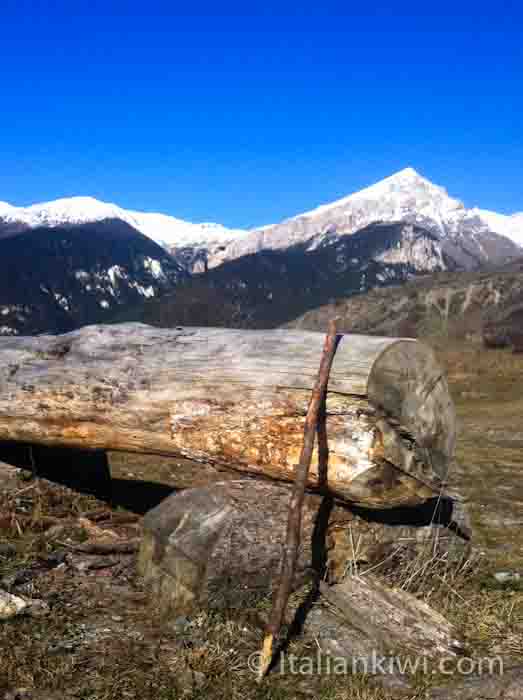 By Lisa Watson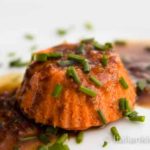 Print Recipe
Red Pepper Flan with Anchovy Sauce
Red Pepper Flan with Anchovy Sauce is an easy to make, very elegant starter. Find out how to impress your guests here!
Ingredients
For the Flans:
4

Red peppers

Capsicums

4

Eggs

3

Tbsp

All-purpose flour

1

tsp

Salt

Pepper

to taste

200

ml

Milk

1 cup
For the Sauce
10 -12

Anchovies

in oil

5 -6

Tbsp

Olive oil

2

Garlic cloves

6 -8

Capers

Chives

a small bunch
Instructions
Put the peppers in an oven dish and bake whole at 180°C (350°F) for 45 minutes. Leave to cool, then peel off the skin, remove the green stem and scrape of the seeds with your fingers.  This step can also be done 1 – 2 days before you make the flans.
For The Flans:
Heat the oven to 180°C (350°F) . Grease a muffin tray very well with butter or oil and cut rounds of baking paper to place in the bottom of each well. Fill a roasting pan with water so that it comes approximately half-way up the muffin cups.

Put all the ingredients for the flan in a blender and blend them until you have a smooth mixture.  You can use a handheld blender for this step too.

Pour the mixture into the muffin wells.

Bake for 25 -30 minutes until a cake tester comes out clean.  don't worry if they puff up.  they will get flat as they cool!

Leave them in the forms to cool down.  When they are cold, carefully slide a knife around the sides of each flan and gently prise them out on to a plate.

The flans can be made a day in advance. Cover well and keep them in the fridge until needed.
For The Sauce:
Peel and slice the garlic, then put all the ingredients into a small pot.

Simmer on the stove at a medium to low heat for 30 minutes, stirring frequently.

 Leave to cool a little, then blend until smooth.
To serve the flans
Warm them for 5 minutes in the oven or 1 -2 minutes in the microwave.. Put each flan on an individual serving plate. Drizzle the anchovy sauce over the flans, then chop the chives and sprinkle them over the top .
Notes
The sauce can also be made a day in advance.  Just before using, heat it to lukewarm very gently on the stove-top. If you heat it in the microwave, heat it on a very low power.  I put it in for too long and destroyed the sauce and killed the plastic container it was in. Be warned!
When plating the flan, chop chives and sprinkle them over the top for an added "WOW!" effect!