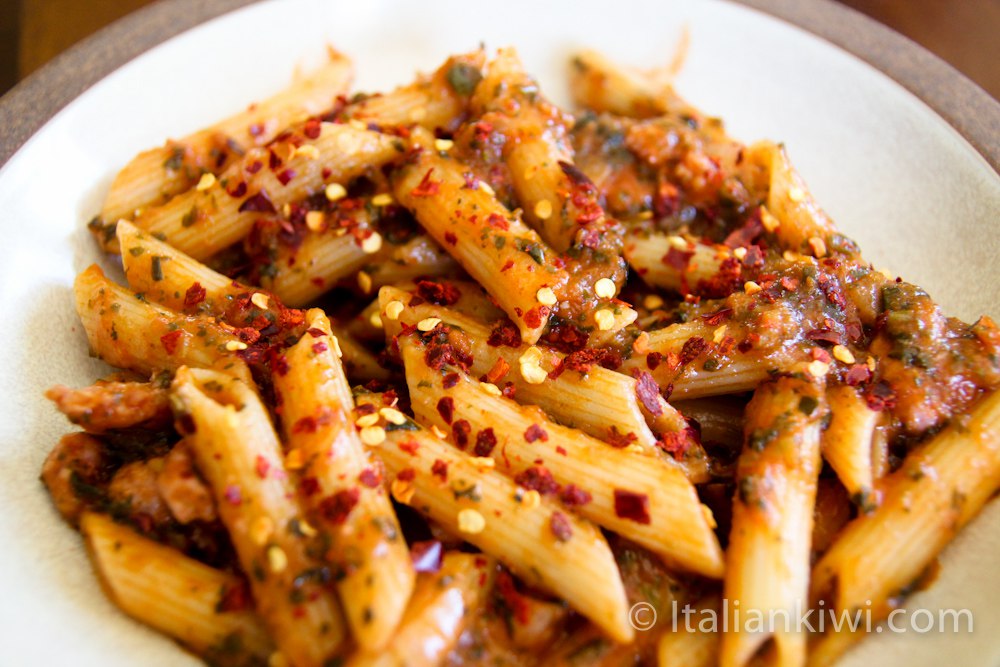 This pasta with a sauce of sausage and spinach is another one of those sneaky recipes I use to get yet more spinach into the stomachs of my spinach-phobic children!  With the tomato puree and the sausage, they hardly even notice the green flecks, especially if I grate a mountain of Pecorino cheese over the top……I find it delicious too, so it's a win-win situation. 🙂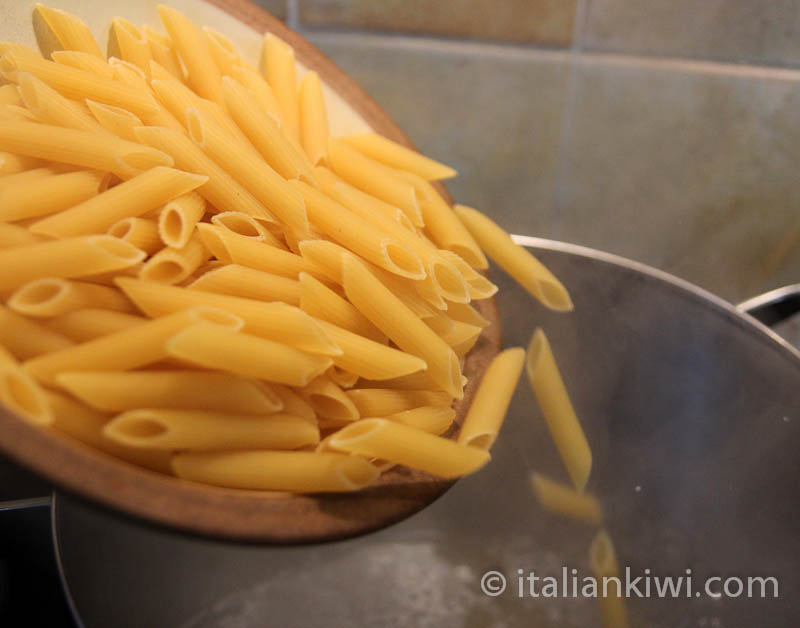 The sauce with sausage and spinach goes incredibly with with Pecorino cheese. Pecorino is a hard cheese made from sheep milk that is used extensively in Tuscany, Umbria and Southern Italy. To be honest, although I'm bordering on a cheese-a-holic, it's not my favourite kind of cheese as I find it a little too salty, but my kids and husband adore it.  Whenever we go to the beach in Tuscany for our Summer holidays, while I stand despondently at the cheese counter in the supermarket trying to find something which is NOT Pecorino, while the rest of my family are busy throwing as many different kinds as they can into the shopping trolley: fresco (soft and mild), stagionato (old and crumbly), and semi-stagionato, which is somewhere between the two. It also comes with with peppercorns in it, and with peperoncino in it……the choice seems nearly endless!  Luckily in Tuscany the salume (dried meats) are delicious, so I make up for my cheese neglect in other ways….so if you were worried that I may be wasting away from starvation, please stop this minute!
If you're an adult and actaully enjoy the taste of spinach….at what age does that happen???  How do you go from being a green-things-hating kid to an adult just like that?  Is it that you wake up one morning and decide from now on you'll eat spinach???  Is it when you buy your first car?  When you get a real job????…..anyway, if you feel adult enough, put the whole leaves in.  It tastes great like that!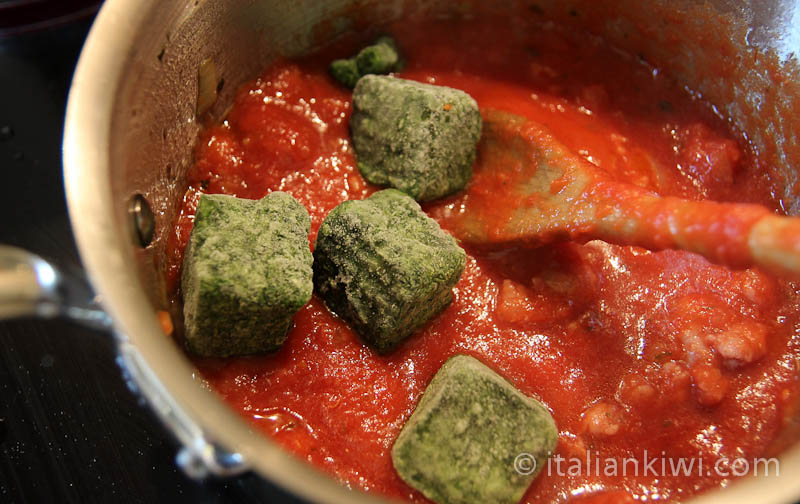 To find out how to cook pasta like an Italian does, check out my handy guide.
By Lisa Watson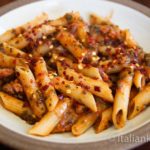 Print Recipe
Penne Rigate alle Salsicce e Spinaci
Ingredients
400

g

-or you can use pasta like fusilli or cellentani penne rigate

1

small onion

3

sausages

450

ml

2 cups passata di pomodoro ( tomato puree)

80

g

frozen or one bunch of fresh. spinach

to taste salt

to grate over the finished product Pecorino stagionato

1

tsp

crushed

optional peperoncini
Instructions
Boil the pasta as per the packet instructions.

While waiting for the water to boil, chop the onion finely and sauté it until it becomes translucent.

Add the sausages crumbled or sliced (depending on how you prefer them), and brown them. If adding peperoncino, you can add it now. (I don't when cooking for my kids, as they start screaming and pawing at their mouths if they eat even a speck of chilli).

Add the tomato puree, spinach and salt and simmer on a low heat until the pasta is done, stirring occasionally.

Drain the pasta, add the sauce and stir.

Grate Pecorino over it and serve immediately.