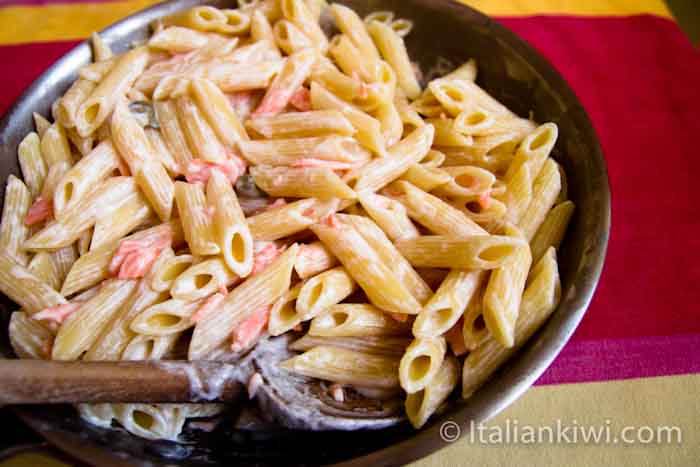 Fishy pasta for people who don't like fish 
Pasta with salmon is an easy pasta dish to keep up your sleeve when you need to get something on the table in a hurry, and feel as though it's about time you ate some fish as you know it's good for you, but you don't really like it much, but anybody can eat something covered in cream.  Oh, hang on….that's my thought process, not yours. It is true that I'm not an avid fish lover, but I'm trying to become one by eating fish every now and then.  I have to say that even for someone like me who's pretty diffident to fishy things, I do like pasta with salmon a lot.  OK, I imagine you're shaking your head right now and saying to yourself (I hope it's to yourself anyway, so that everyone at the office is not staring at you), "But, smoked salmon isn't very 'fishy'!  She can't say that she likes fish because she eats this!".  Well, everyone's got to start somewhere, right?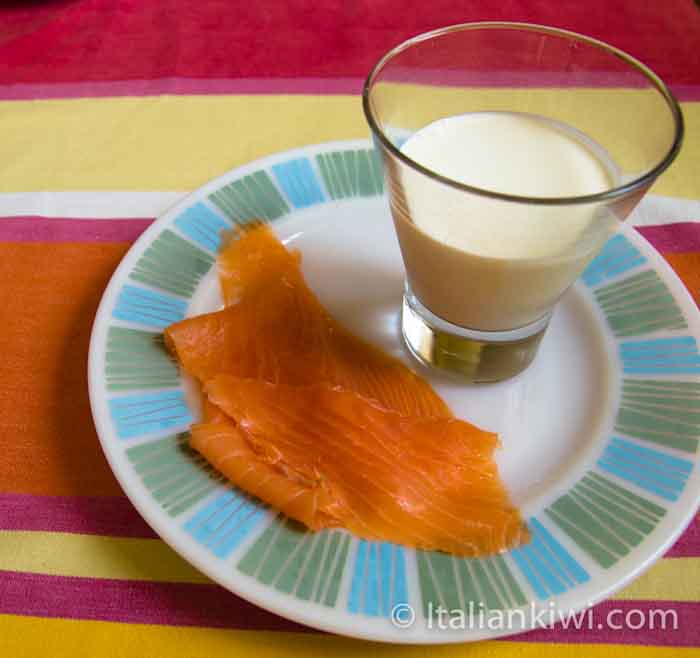 Travel photo of the week
I have actually been to salmon country: the beautiful Alaska.  And the salmon I ate there, that is truly wild and fresh from the river IS amazingly good. Yes, that's me lagging behind my friends in the photo below! We were hiking up the side of a glacier on the Kenai Peninsula.  Honestly, if you have the choice of one place to go in your life (and you like nature), this is it!  I've never seen such awe-inspiring wilderness, and that's saying something as I come from New Zealand. But, of course, the other nature-filled place to go if you've only able to go to one is New Zealand…… I know the math doesn't add up, but it is impossible to choose between the two. Just an added note about the photo…just after this was taken, we came around a corner and stumbled across a mother bear with two cubs, who were only about 20 metres away.  We quietly sidled past…thanks goodness it was a black bear and not a grizzly…….I remember some very sage advice I read just before going there: "In Alaska, you should always go hiking with people who run more slowly than you do"…….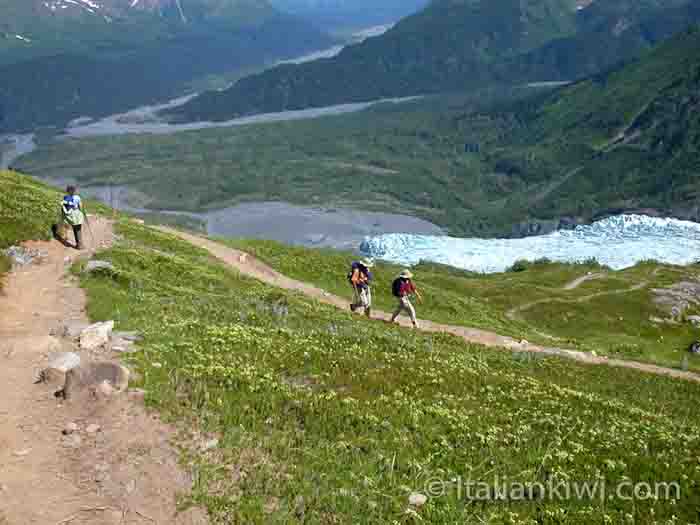 So this is the perfect pasta dish for those who should eat fish, but don't and also for those who like fish.  A great all-rounder.  Adding capers giving it a nice salty zing.  The two flavours marry perfectly together. And, if you don't think you like capers either, try them in this dish.  You may be pleasantly surprised!
To find out how to cook pasta like an Italian does, check out my handy guide.
By Lisa Watson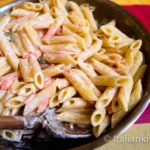 Print Recipe
Pasta with salmon and cream
A recipe for pasta with salmon and cream. Even those who don't like fish will eat this!
Ingredients
400

g

Penne Rigate

or other short pasta

150

ml

Single cream

80

g

Smoked Salmon

7.9 oz

2

Tbsp

Capers

optional
Instructions
While the pasta is boiling, gently heat the cream.  DO NOT let it boil.

Cut up the smoked salmon into small pieces or strips and add to the cream.

Add the capers, if using.

Drain the pasta and add to the sauce.