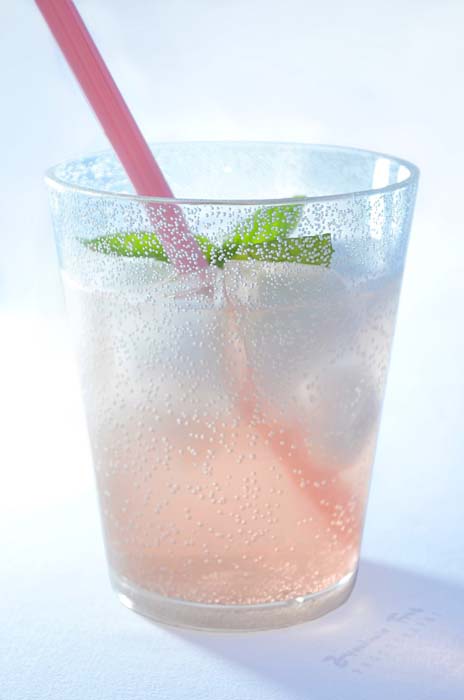 Prosecco Spritzer with a little help from my friends
As promised, here's kind of a part two of my post about the Borough Food Market, which is a recipe for a drink we had there.  My friends and I discovered this peach prosecco spritzer at the market just as we were waddling out the door after eating everything we could get our hands on.  We desperately needed something light and refreshing and a prosecco sprizter was it!  I decided to recreate this delightful drink at home.  Before I tell you about that, and the untiring testing a few of my friends went through until I was able to get the recipe for the prosecco spritzer right, have a look at the photo above.  Isn't it awesomely good?!  Nope, it wasn't me who took it unfortunately, but my friend Zvonimir Fras.  He and his partner-in-crime, Jasmina, drove all the way from Croatia last weekend to visit me after getting to know me on Google+.  Talk about the powers of the internet! It was awesome to meet them both and we spent a happy weekend of sightseeing and drinking prosecco spritzers. 🙂 If you'd like to see (and maybe buy!) some more of Zvonomir's photography, check out his website here.  Jasmina is also a very talented cook and has recently put out a fun e-book for baking with kids called Beyond The Cake. You can buy that too if you like! 🙂 🙂 Now that your on-line shopping is sorted for the day, let's move on to more serious matters: the Peach Prosecco Spritzer!
My friends and I painstakingly worked on getting this drink right.  You should feel confident that we did rigorous taste testing with all sorts of measurements of the ingredients to make it taste just like the Prosecco sprizter we tried at the Borough market. So, either this Prosecco spritzer is a perfect imitation of the one we drank in London, or after too many tastings, it was just the last one I mixed up, but either way, I think that it should be the Summer drink for 2015!  It's cold and incredibly refreshing. Also, therefore a little dangerous since it's quite alcoholic!  I think that you could easily swap the peach liqueur for some other fruit flavoured liqueur and it would also be delicious.  If you would like to make it less alcohol infused, you could add peach syrup (like the one for flavouring fizzy drinks) instead.  If you do that, maybe add less lemonade so it's not too sweet. We drank them while having an aperó. The aperó is an early evening event that you have with friends, where you have a drink and eat lots of finger-foods. Well, usually you end up having more than one drink and it often turns into kind of a dinner.  It has to be my favourite meal! I think it deserves a whole post of its own.  The photo below (again taken by Zvonimir!) is of the mozzarella and tomato skewers my friend, Anne, brought over to share with us.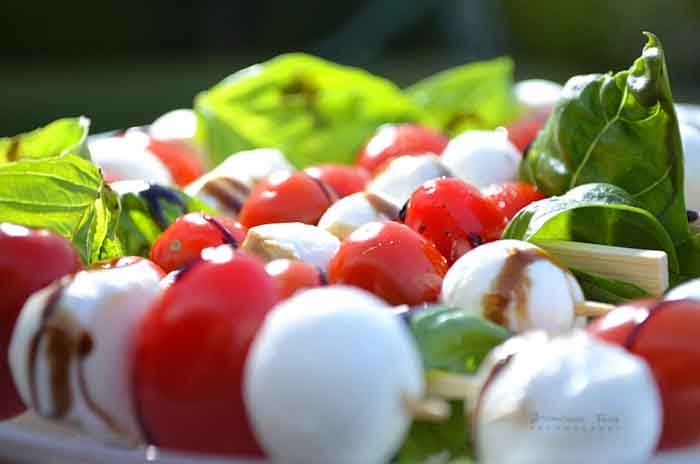 Travel Photo of the Week
I'd like to take you to the heart of London near the Borough Market: The Thames River.  Without The river, London would not even have existed.  It's still a very important waterway as you can see by all the boats on it.  It was a showery weekend when I was there, so I'm afraid the photo's not very blue, but it is a typical view in London with all those clouds hovering over the city!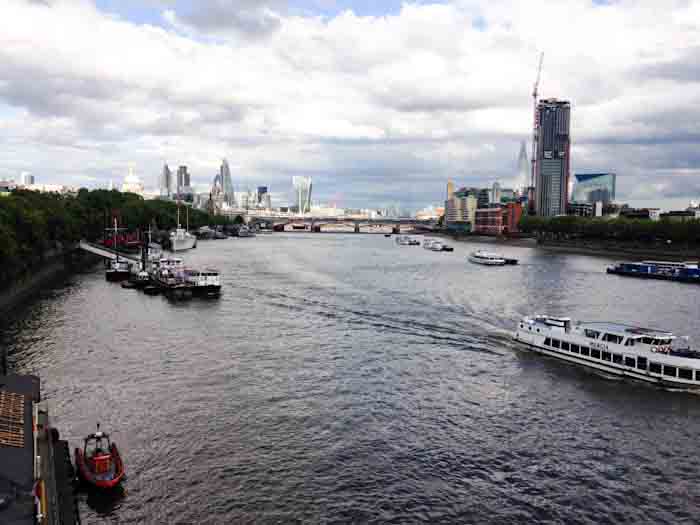 For another delicious cooling cocktail, try out the very Italian Aperol Spritz!
By Lisa Watson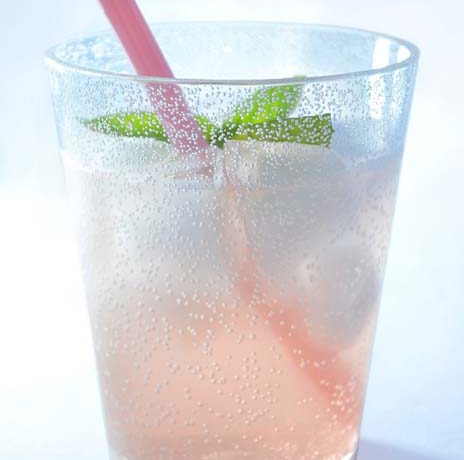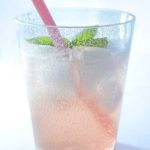 Print Recipe
Peach Prosecco Spritzer
Here's a great thirst-quenching drink to chase away that hot weather. Easy recipe!
Ingredients
100

ml

Prosecco

3.4 fluid oz

100

ml

Peach Liqueur

3.4 fluid oz

50

ml

Lemonade (e.g. 7Up, Sprite)

1.7 fluid oz

Ice

enough to fill the glass

Fresh Mint Leaves

to garnish
Instructions
Put the ice in the glass.

Pour the other liquids over the top and mix.

Crush the mint leaves in your fingers and then add them.

Add a straw and drink immediately!

For a pitcher, add 1 L of prosecco, 1 L of peach liquer and 500 ml of lemonade over lots of ice.