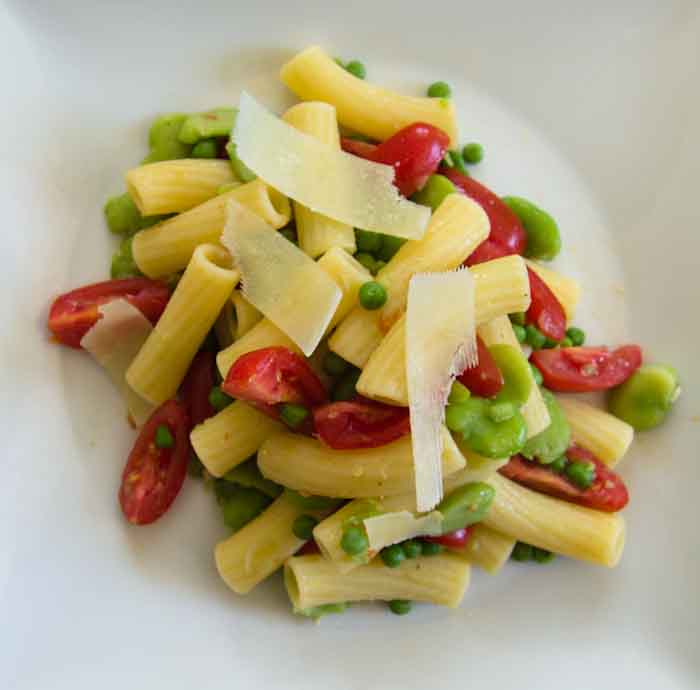 We have pasta for lunch nearly every day.  We have to, otherwise we would be disowned from Italian society.  It's one of the rules of holding an Italian passport.  In the Summer months, the thought of a hot pasta dish can sometimes feel like a little too much, so we welcome pasta salads!  You CAN have your pasta and eat it too!  The great thing about pasta salads are that they can even be made the day before.  That way you don't have to be standing over a hot stove-top in the middle of the day, wiping sweat from your feverish brow in order to feed your family.
This pasta salad is a fabulous Spring dish as it uses fresh fava beans (or broad beans) and peas.  It's best for this salad to use the freshest vegetables you can get, though frozen peas and favas work well too. In fact, I'll let you in on a little secret…….I actually did use frozen fava beans for this recipe as I didn't get around to buying any fresh ones…….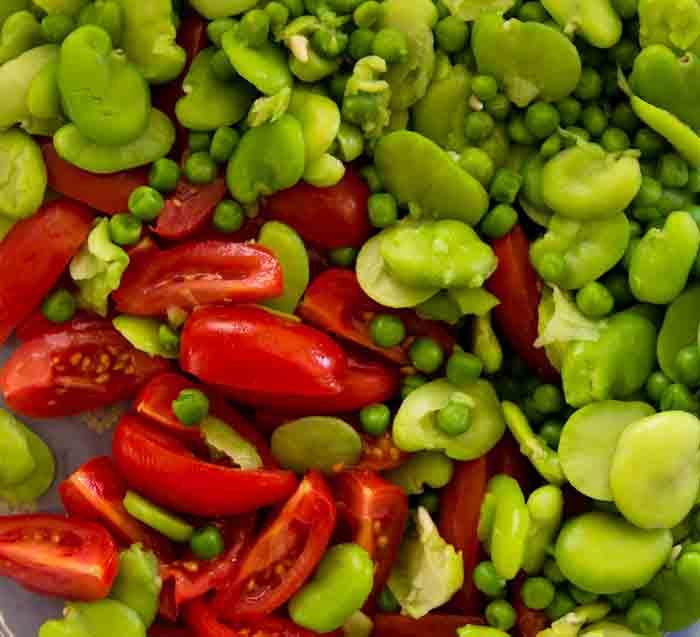 As the temperatures are starting to climb up to Summer levels already, I thought I'd leave you with a Travel Photo of the Week from sunny Florida, U.S.A. this time around.  Just look at that beautiful turquoise sea!  We were there quite a few years ago, but the coastal western side of Florida still stands in my memory as one of the more beautiful and interesting places I've been to, with its abundance of wilderness and wildlife.  We saw manatees, alligators, eagles, and even a cougar sloping along the side of the road one time! The only wildlife I wasn't so keen on were the "no-seeums": these tiny black midges that showed up in rave party dimensions when the sun went down to crawl into your hair and bite you.  Now I understand why all the big houses have giant net cages over the top of them!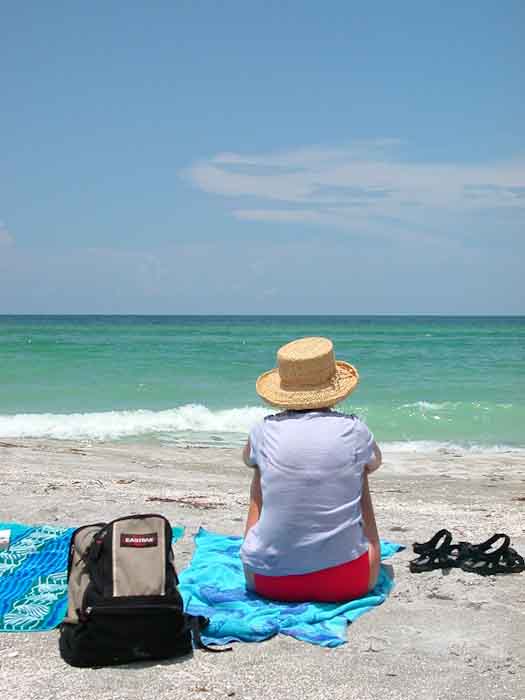 To find out how to cook pasta like an Italian does, check out my handy guide.
By Lisa Watson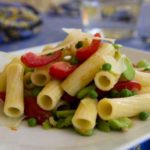 Print Recipe
Ingredients
200

g

7 oz Short pasta (such as penne rigate or fusilli)

1/2 – 3/4

cup

Fresh fava beans

3 – 4

medium sized Tomatoes

to taste Parmesan Cheese

2 -3

Tbsp

Olive oil

to taste Salt and pepper
Instructions
Cook the pasta as per packet instructions. Drain and run cold water over it to cool it. Put the pasta into a bowl and stir in 1 Tbsp of olive oil if not using immediately, so that the pasta doesn't stick together.

Prepare the fava beans.  If they are fresh, open the pods and boil the beans for 5 minutes in lightly salted water. Run cold water over them and then slip each bean out of it's papery skin.  If they are frozen, thaw them as per packet instructions.

Chop the tomatoes.

Use a vegetable peeler to shave off pieces of parmesan cheese.

Put all the igredients together in a serving bowl. Add 1 Tbsp of good olive oil and sprinkle with salt and pepper to taste. Toos the pasta salad and serve immediately or cover and chill until needed.