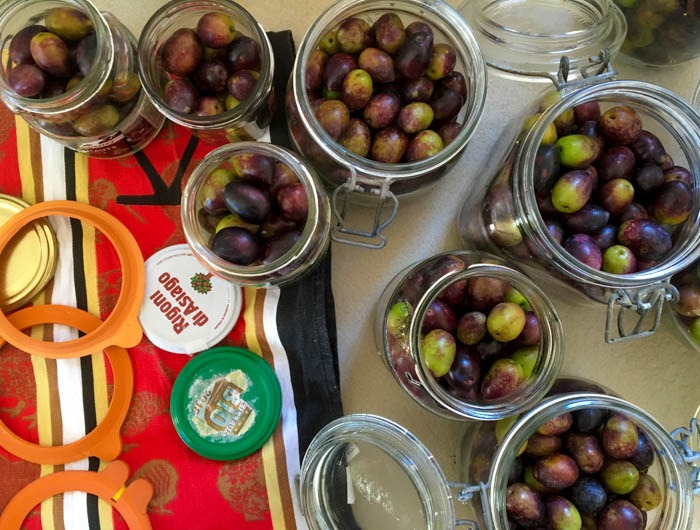 How to hit an olive tree
I've talked before about how hoards of wild Southern Europeans roam around the countryside banging trees with sticks and raking their leaves with big wooden combs at this time of the year.  This year we decided to join them, as the olives that grew on our few olive trees were so large and juicy-looking that we couldn't just leave them there. But, what to do with them once they were picked?  We could take them to the local olives mill where for 5 euros they will grind 10 kilos of your olives to give you 1 litre of oil.  That sounded like a good idea until we started picking the olives, and realized what a long and tedious job it would be to get a whole 10 kilos.  If we drove to Italy and bought a bottle of oil in the supermarket, it would cost about the same, and take about the same amount of time to get.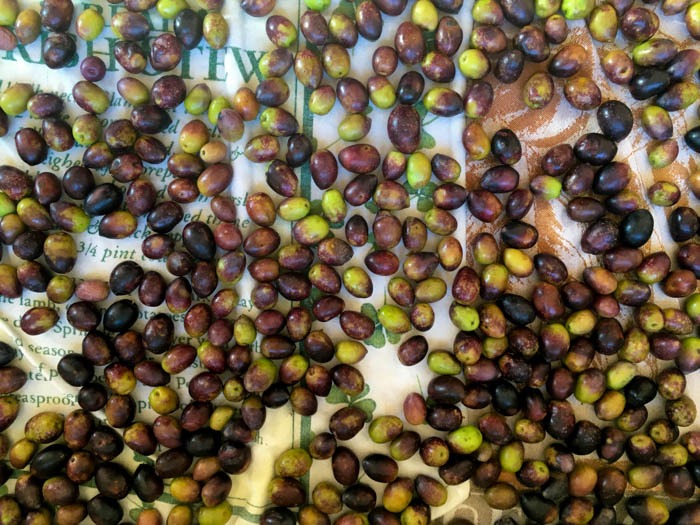 A neighbour who knows everything
Luckily, I bumped into our 80 year old, mountain conquering neighbour who knows everything there is no know about nature and gardening.  He tells such great stories and always has interesting facts to tell us, like the old use for an introduced weed here called madder (gerance in french).  It was originally brought over from Asia to be cultivated, as the bright red roots were used to dye the cloth of the uniforms of the Napoleonic army. Nowadays, it is just an annoying, sticky weed that is very difficult to get out of the garden thanks to its long root systems that pop out new plants all over the place.   You pull up one part of it, and the other parts just keep growing; kind of like a starfish whose arms work independently even if they're cut off, and can regrow into new starfish. That's kind of revolting, but also strangely fascinating.  Anyway, as usual, I'm getting off topic….as well as all these interesting tidbits of information, my neighbour gave me a simple recipe for curing olives in salt water (saumure), which I thought I'd try out on our big olives.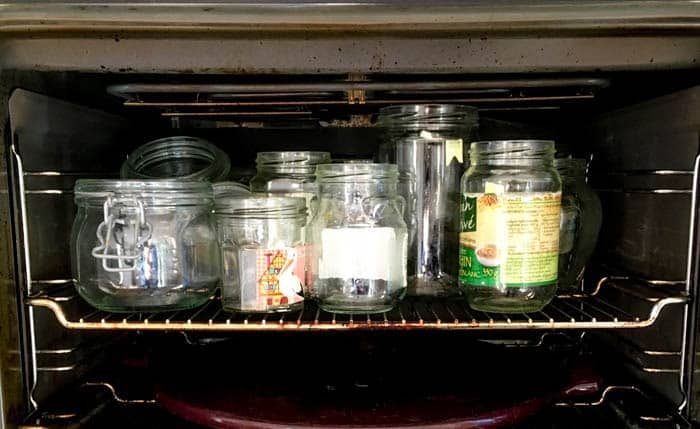 Being pelted with olives
The picking took a long time.  You are meant to spread nets under the trees and rake them with a special rake, but as we had neither of those tools, I just sent my younger son up a ladder to pick them and throw them at a bucket on the ground, while I picked the ones within arm reach.  After a few hours and some rather random olive throwing, we managed to get 3.5 kg (7.7 lbs), which we both decided was plenty, even though we'd only got about a third of the olives off the tree.  I figured that if the recipe didn't work, I didn't want to spend too many more hours holding a ladder and being pelted with olives.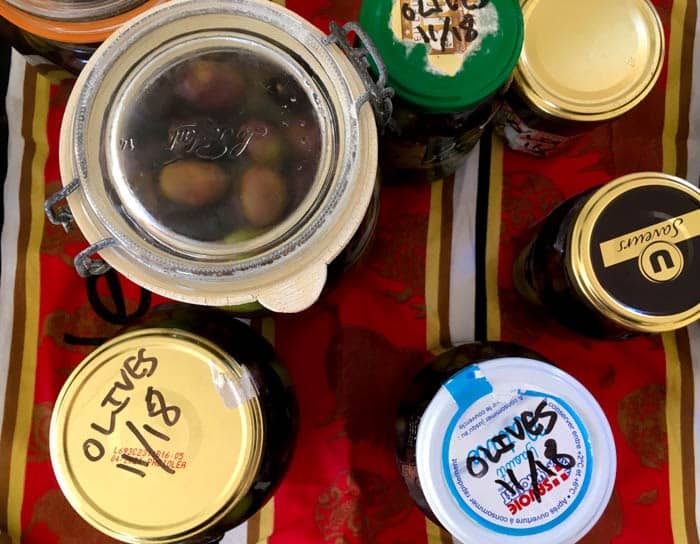 The process of curing them was incredibly easy.  For 10 days you need to soak them in water, changing the water each day.  This gets the bitterness out of the olives.  I used a hard-sided cooler, which made it easy to just leave them outside and pour off the water each day. during this time, I madly collected jars with screw-top lids of varying sizes and shapes.  If you do a collection of jars, remember that they can't have any plastic on them as they need to either go in the oven, or be boiled to sterilize them. For the rest, it was just a matter of boiling salt and water together, putting the olives in the jars and then covering them with the cooled salt solution.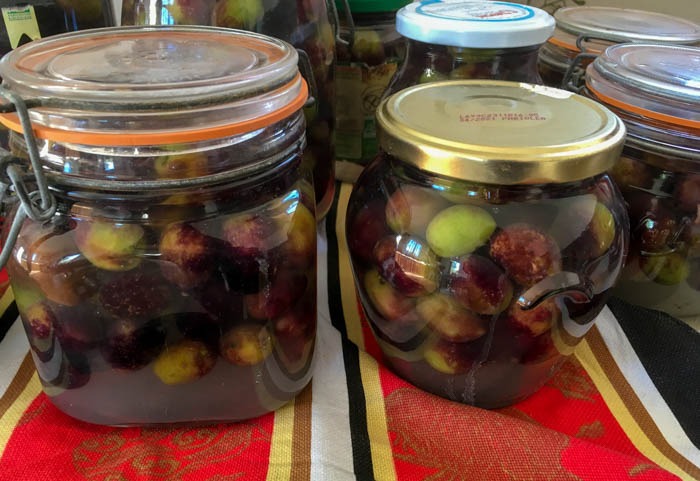 After two months of brining the olives
It seemed almost too easy to work, but it did!  The olives were on the salty side, but edible!  To get rid of the salt, I soaked them in water for 24 hours, changing the water every 6 -8 hours, then washed and drained them.  I then poured oil over them until they were covered, and chopped up some rosemary, thyme, and oregano from our garden to put in as well.  The olives were perfect!  I'll pick more of them next year!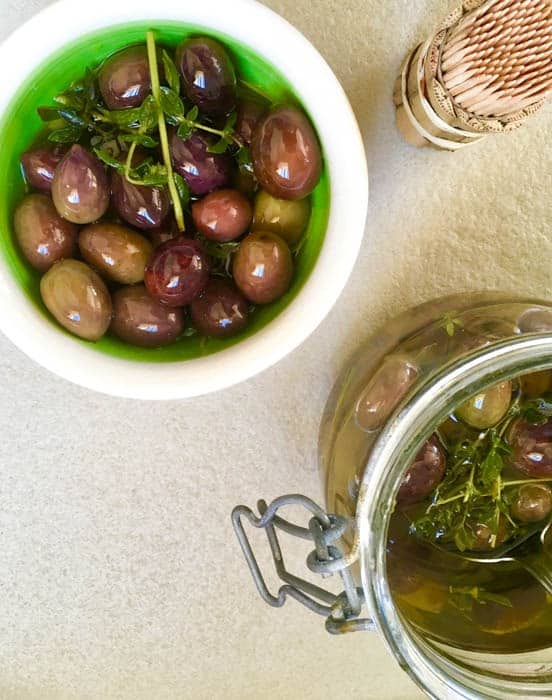 Travel Photo of The Week
Well, this is not really a travel photo as it's taken in my garden.  One of the joys of living in the south if France, at least is far as I'm concerned, is sitting under a silvery-green olive tree and looking up through the branches at the bright blue sky.  What is more Mediterranean than that!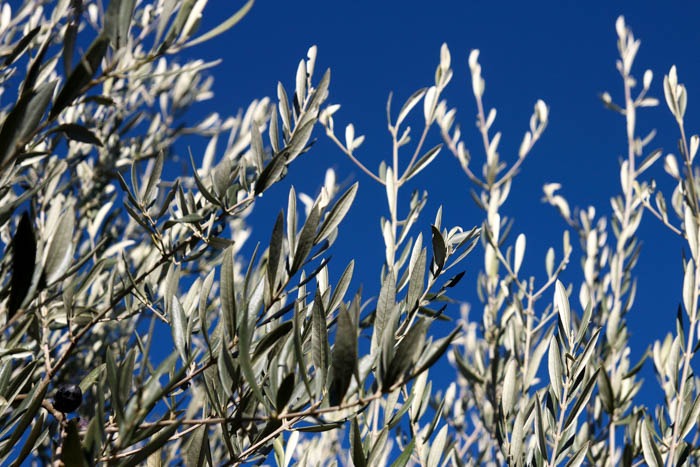 By Lisa Watson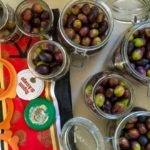 Print Recipe
How to cure fresh olives
Cure your own olives at home with a simple method.
Ingredients
1

kg

Fresh uncured olives

2.2 lbs

1.5

L

Water

6 1/2 cups

150

g

Salt

1/2 cup

Glass jars with screw-top lids
Instructions
Pick the olives, sort through them and remove any bruised ones or ones with insect holes in them.

Put them in a large container with a lid and cover them with water until they start to float.

Put the lid on the container.  Put it in a shady place.

Change the water every day for 10 days.
To Brine the olives:
Boil the 1.5 L of water and the 150 g of salt for 10 minutes then leave to cool.

Sterilize the jars you have collected by heating them with their lids off in a 200 oven for 15 minutes.  Leave to cool.

Boil the lids in water for 10 minutes and leave to drain and dry. You can add herbs such as thyme or bay-leaves to the salt water if you like.

Drain the water off the olives and pour them onto tea-towels to dry them.

Check through the olives again for any rotten or blemished ones.

Fill the jars with olives to within about 2 cm from the top of the jar.

Pour in the cooled salt solution until it gets to the top of the jar.

Screw the lids on, label the jars, then place them in a dark place.

Wait for two months before eating.

The olives should be rinsed before being eaten.