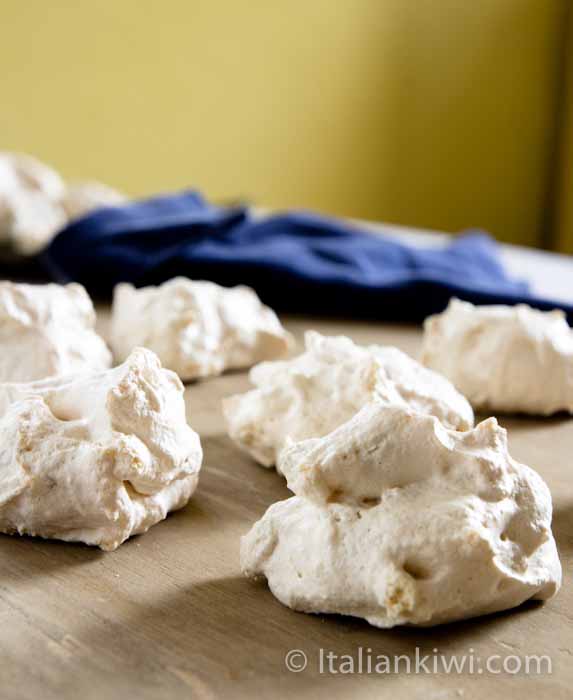 I often make recipes that need egg yolks, but not the whites.  What to do with them?  Well, now I have my wonderful KitchenAid mixer, I usually make meringues.  This time, since I had some hazelnuts from Piemonte, I decided to add them into the mix to make hazelnut meringues. The hazelnuts from Piemonte are grown near Cuneo, a town in the South of the Piemonte region, near the mountains, and even have an exalted I.G.P label (Indicazione Geographica Protetta), as the hazelnuts from the region are seen as the best in the world! The Piemonte area has a tradition of mixing chocolate and hazelnuts together  (think nutella, but MUCH tastier!).  If you ever go there, make sure you buy some gianduiotti.  These are very addicitve chocolates shaped like little upside-down boats that all the chocolate-makers in Turin sell.  Be warned though: it's difficult to stop at eating just one!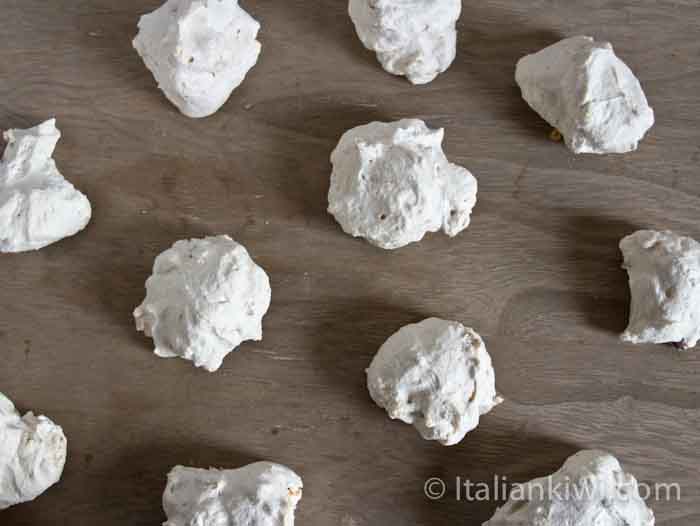 You can make meringues by hand if you don't have a standing mixer, but your arm may drop off before you finish beating the egg whites until they're stiff enough.  Don't say that I didn't warn you! If the meringues become a little brown in the oven while you're cooking them, don't fret: that means the sugar has caramelized, which makes them almost better.  They should come out crunchy.  When the hour of baking is up, prod them gently with your finger (not to hard, otherwise you'll break them).  If they are hard, you can turn the oven off.  If they are still a little squishy, leave the oven on for another 15 minutes and try the finger-prod test again.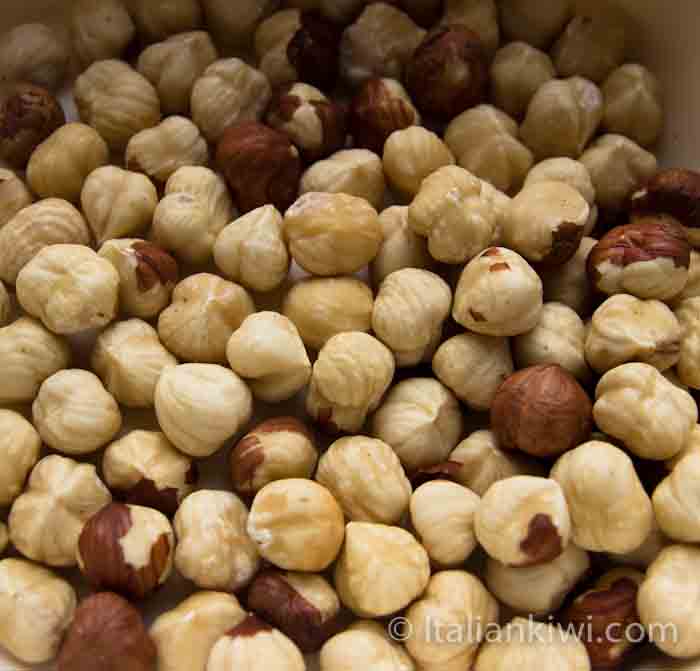 The hazelnuts should be toasted before you chop them up.  You just need to put them on an oven tray and pop them in the oven at 200ºC (400ºF) for 5 minutes.  Then you fold them in a tea-towel and rub them to get most of the skins off.  I have a VERY important tip for you after that.  Once you taken them out of the tea-towel, DON'T leave the tea-towel screwed up on the kitchen bench and forget about it.  You just might go to use it later.  Ok, as you may have guessed, that's what I did.  I picked it up to dry some dishes a few hours later, flicked it out, and thousands of tiny pieces of hazelnut skin flew ALL over the kitchen.  Do you know how hard they are to clean up?  I don't suggest you try it.  Just take my word for it: they go EVERYWHERE! It may be useful if you want to give your kids something to do on a rainy day and they like cleaning (yeah, right…..I don't think that kind of kid has been invented yet).
Travel Photo of the Week
This is the Gorge du Verdon in the South-East of France. It's a beautiful 25km long canyon that you can go hiking and kayaking in, and if you're feeling daredevilishly crazy, canyoning. When we were there we saw people with dry-suits and life jackets on heedlessly throwing themselves into the raging rapids at one part of the canyon. Oh, and I forgot the crazy climbers too! If you're into that sort of vertiginous thing, it's apparently a climbing mecca.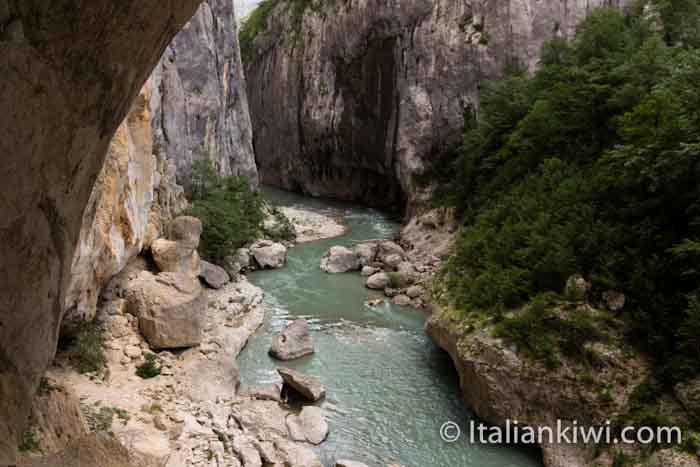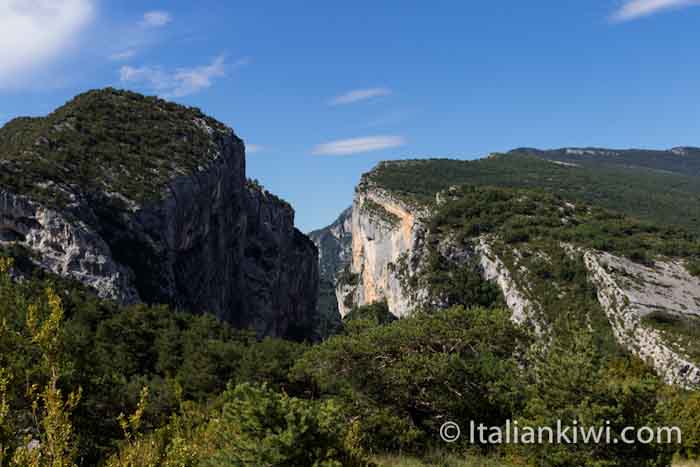 By Lisa Watson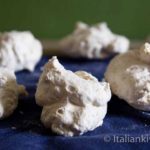 Print Recipe
Ingredients
2

Egg whites

150

g

3/4 cup Granulated sugar

1

tsp

Vanilla extract

100

g

3.5 oz, 2/3 cup Hazelnuts
Instructions
Toast the hazelnuts on an oven tray in an already heated oven at 200ºC (400ºF) for 5 minutes. Take them out and turn the oven down to 130ºC (260ºF).

Put the hazelnuts in a tea-towel to rub the skins off, then chop them into small chunks.

Put the egg whites into a standing mixer and beat them at moderate speed until they become foamy. Increase the speed to maximum.

When the egg whites become white and stiff, continue beating and add the sugar tablespoon by tablespoon.

Add the vanilla essence and beat in.

The egg whites should be stiff and glossy now. Add the hazelnut chunks and mix in slowly by hand.

Use a tablespoon to put uneven blobs of the meringue mixture onto an oven tray covered with baking paper. (Use a second tablespoon to scrape them off the first one).

Bake in the oven for 1 hour then turn the heat off and leave them in there until the oven is cool.

Meringues can keep for a few weeks in an airtight container.