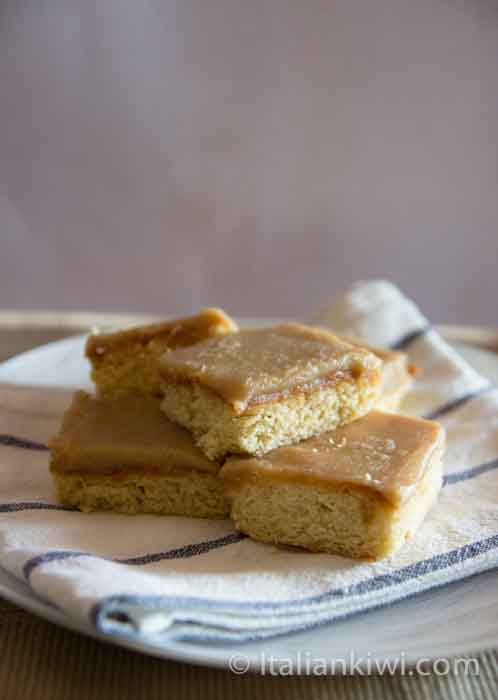 A classic square from the annuals of my childhood cookbook
I'm back from New Zealand and, after a week of sleepless nights, finally over the jet-lag! While I was there,  my mother made ginger slice, which whisked me back to my childhood faster than that Back to the Future dude went all over the time spectrum in his Dolorian!  When I got back to France, I scrabbled through my old recipe books and found the recipe for ginger slice that I had carefully written out in my cookbook when I was 9 or 10 years old.  This recipe for ginger slice came from my cooking teacher at school.  I don't know if they still do this, but back in my day when I was a young whipper-snapper (wow, do I sound old right now!), they used to send the girls to do cooking and sewing once a week, and the boys would go off to do carpentry.  I really envied those boys!  They got to play with a whole lot of dangerous tools and make birdhouses, while all we did was the stuff I did at home on the farm already (seethe, seethe).  Anyway, one good thing to come out of it was this ginger slice recipe I'm going to share with you today.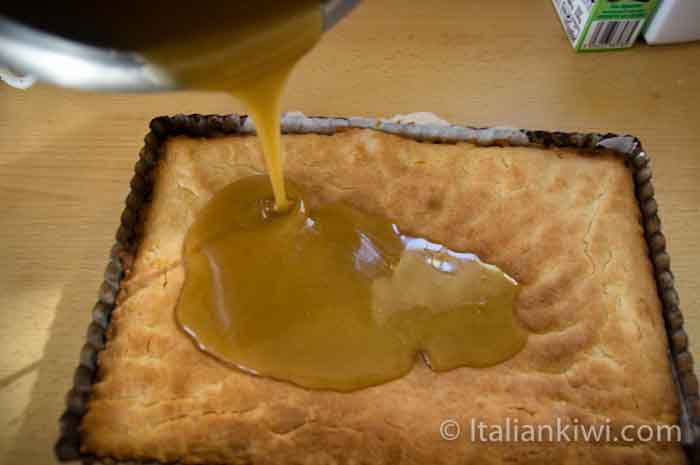 So, what did I do in New Zealand?
Ginger slice is generally called ginger crunch in New Zealand and you can find it in pretty much all the cafes you walk into.  I've called the recipe below ginger slice as it's not very crunchy, but more "cakey".  If you want it to be more like a flakey biscuit base, leave out the eggs and add a little less flour.
"Enough about cake!"  you shriek.  "What did you do when you were in New Zealand?" you ask in a more moderated tone, after taking a few deep breaths. Well,
we did a lot of this: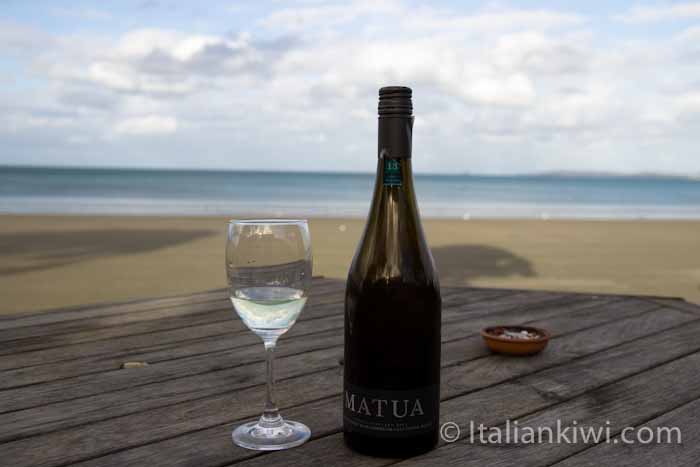 and hung out with friends like these: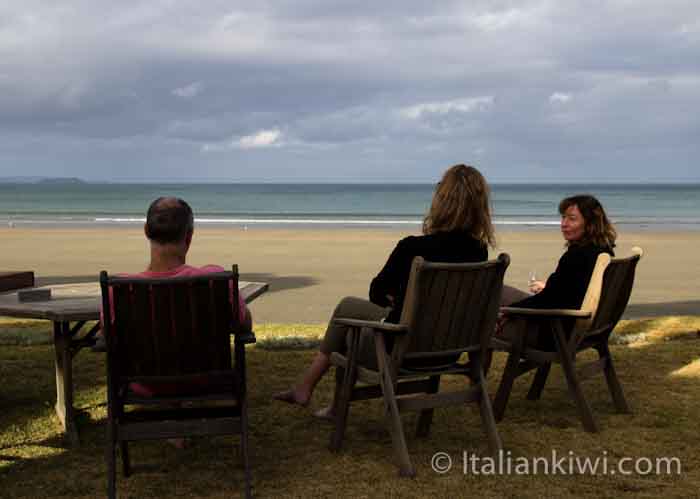 We also spent some time with a few of these: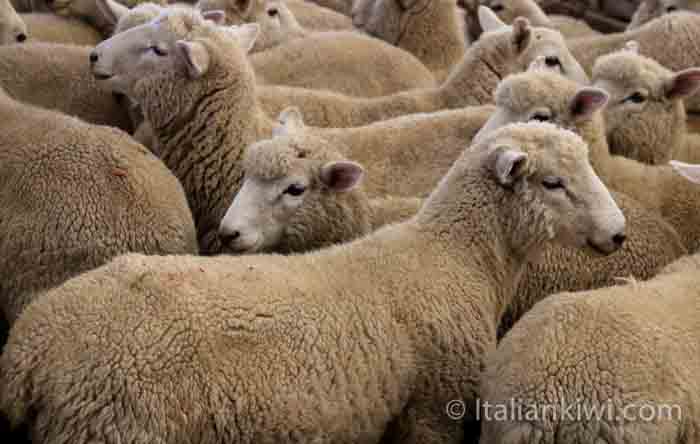 who live on my parent's farm that looks like this: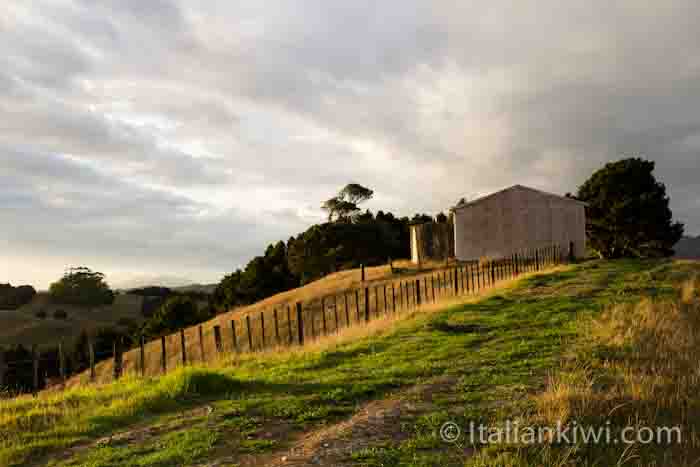 and we spent a lot of time swimming, body-boarding and building massive sandcastles in places like this: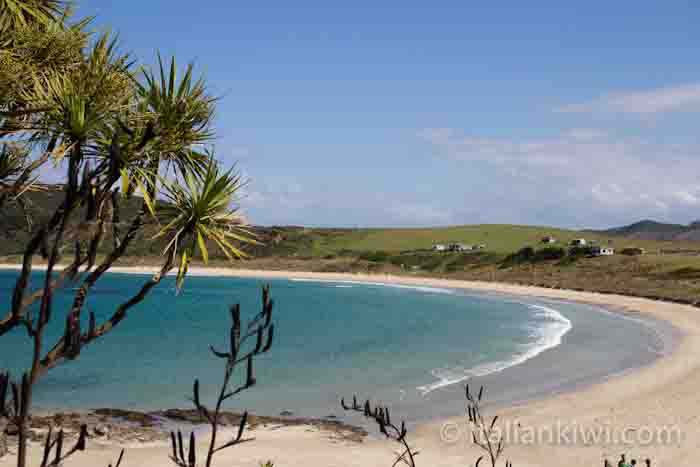 That about sums it up. Had enough yet? 🙂  So, go make the ginger crunch, and make a cup of strong black tea with a spot of milk in it to go with it. Close your eyes while you are munching and slurping, and pretend you're sitting in a cafe in New Zealand.  Next thing you know someone will be saying to you, "Hey cuz!  Where youse guys from?" or "Sweet as, bro! (to say they like something, like what you're saying, or agree with a plan you suggested)", and then you'll know you've teleported to the North of New Zealand successfully!
By Lisa Watson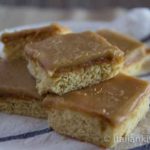 Print Recipe
Ginger Crunch from New Zealand
Ginger Slice from New Zealand is a delicious sweet square found in all good NZ cafes. Get the recipe here
Ingredients
For the Base:
125

g

Butter

4.4oz, 1 cup

125

g

White Sugar

4.4oz, 1 cup

1

Tbsp

Golden Syrup

2

small

Eggs

1

tsp

Dried Ginger

250

g

Flour

7oz

1

tsp

Baking powder
For the Glaze:
4

Tbsp

Butter

8

Tbsp

Icing Sugar

Powdered Sugar

4

Tbsp

Golden Syrup

2

tsp

Dried Ginger
Instructions
For the Base:
Cream the butter and sugar until fluffy.

Add the eggs, and beat in one by one.

Add the golden syrup and beat in, then add the dried ingredients. Mix until the dough becomes homogenous.

Pressed out into a greased rectangle tart dish.

Bake at 190°C (375°F) for 15 -18 minutes until it is browned lightly on top and firm to the touch.
For the Glaze:
In the last few minutes of the base cooking, put all the ingredients in a pot and heat on the stove-top, stirring constantly, until the butter has melted.

Pour the glaze over the base once it comes out of the oven (while it is still hot).

Leave to cool, then cut into squares or rectangles.