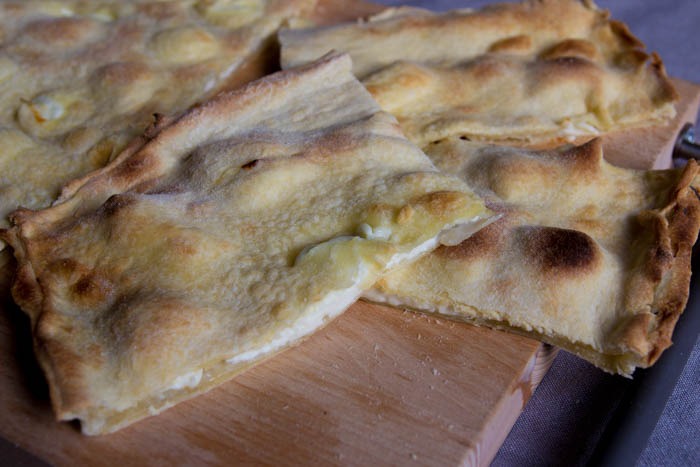 It's worth everything to eat freshly-made foccacia di Recco
I tasted focaccia di Recco for the first time in the town of Recco on the Ligurian coast of Italy.  I remember it well because our two boys were really young at the time.  We had been to Genova for the weekend and were on our way back to France.  The boys were sleeping soundly in their car-seats as we were zooming along the motorway, when we saw the sign for the exit to Recco coming up in front of it.  My husband said, "We HAVE to get some Focaccia di Recco!" and swerved around a truck and onto the exit ramp.  With the kids sleeping in the car, we couldn't really park and enjoy a leisurely snack of hot cheesy bread, so I jumped out of the car on a very narrow street near a bakery to get some focaccia.  He had to leave because the street was so narrow, you couldn't even double-park, then proceeded to get lost in the winding roads of the town.  I ended up eating nearly all the focaccia, as it's so delicious when it's hot that it's difficult to stop, and because of the fact that it took him about 3/4 of an hour to find his way back again.  I vow to this day that it was my survival instinct kicking in so that I didn't starve after being abandoned.  At least the kids didn't wake up so he didn't need to share what was left.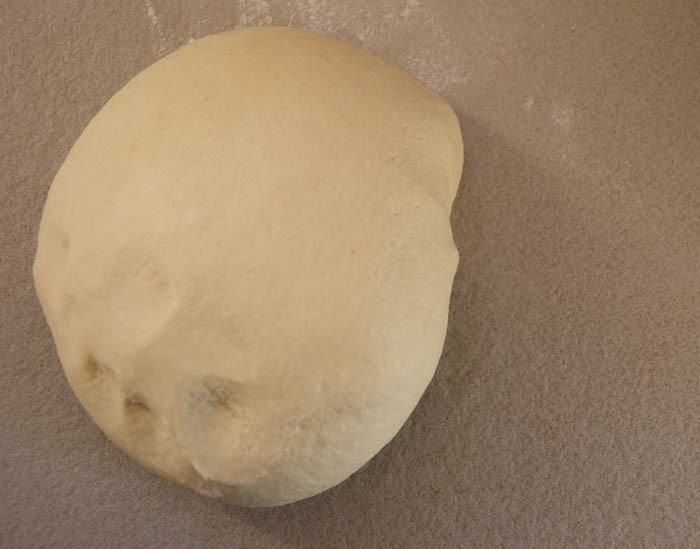 An illuminating idea to be forgiven for past scoffing sins
I had never thought of making the focaccia at home until the Cucina Conversations blogging group that I'm a part of decided that November's theme would be bread (Yes, I'm running a little late.  Blame it on holiday madness,…………or that the cat ate my homework).  I had the sudden illumination that I could finally get my husband to forgive me for my focaccia-eating madness all those years ago, and make him some at home!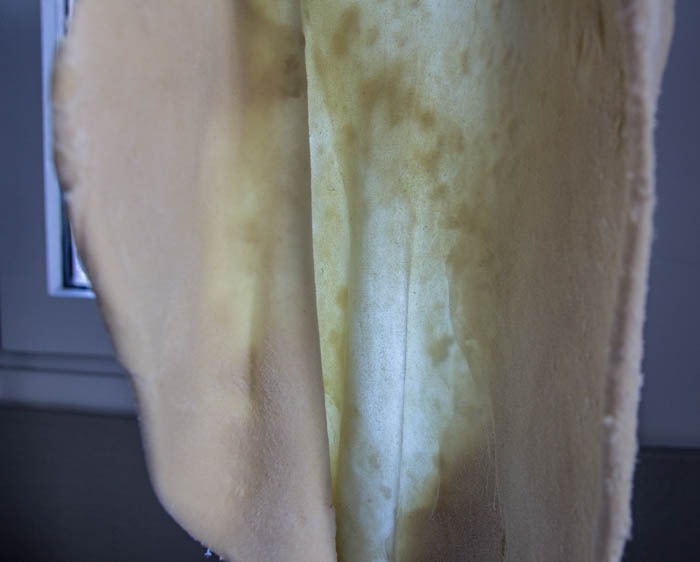 It's not easy to make, but it's worth trying
I can't pretend that it's incredibly easy to make, but if you don't panic and remain very Zen when you're stretching out the dough, all will be fine.  As you see from the awful photo above, it needs to stretch so thinly that you can nearly see through it.  I took that photo of the dough by holding the camera in one hand and trying desperately not to let the dough get huge holes in it while holding it up with the other.  It's much easier to stretch it out if you use half Manitoba flour and half all-purpose flour.  If you can't get Manitoba flour in your part of the world, you can also use just all-purpose flour and use  a rolling pin to get the dough as thin as possible.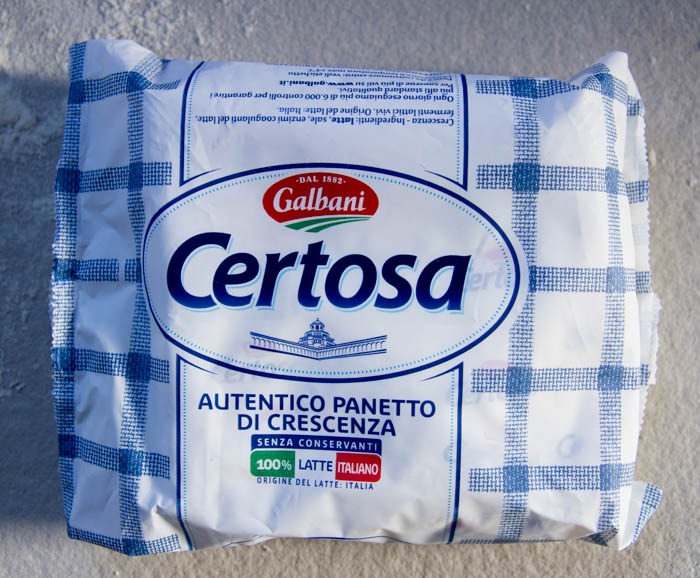 Notes on making foccacia di Recco
If you can't find the creamy Italian Crescenza cheese, you could  try to use Stracchino.  I saw a few recipes online that said that that's a good substitution.  If you can't get either, then try a soft cheese that melts well. Also, when you read the recipe, do believe your eyes: there is no yeast in it, even though it is a bread.   I didn't forget to write it in the recipe.  When I made it, I coasted around the internet to check that it was really the case, as I thought I'd forgotten to write it down!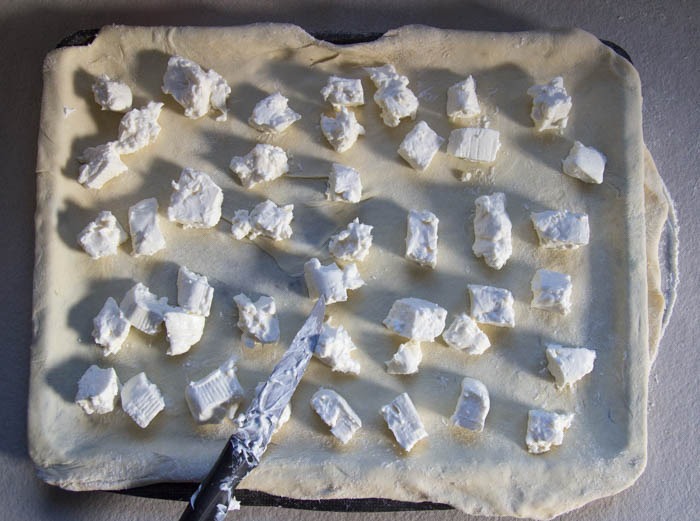 When you place the top layer of dough on, rip a few holes in it to let the steam escape.  This is rather ironic, as you will have just been trying NOT to rip holes in it while stretching it.  It's all about having the holes in the right places.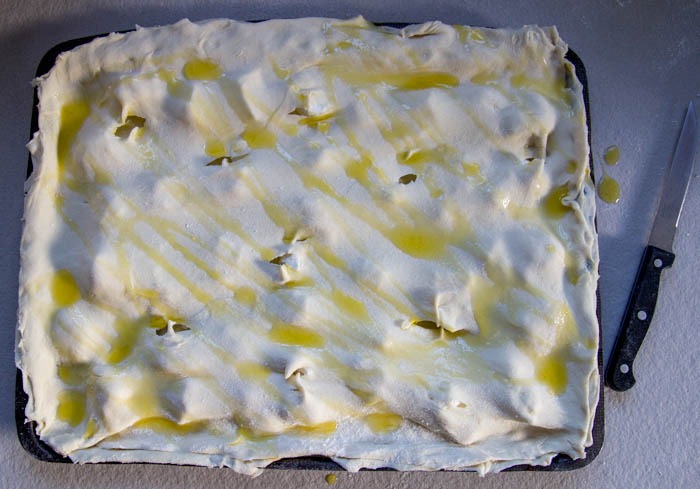 Below you can see a serving suggestion for Focaccia di Recco.  It is delicious on its own, but eaten hot with with some raw ham, tomatoes, and lamb's lettuce salad or arugula on top of it makes it divine!
If you would like a more bread-like focaccia, try this recipe for focaccia di Leonarda.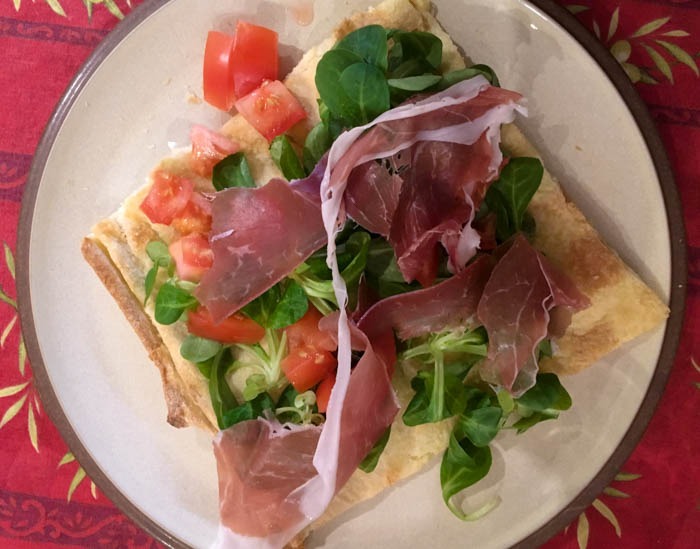 This post is part of a Cucina Conversations theme for this month on Italian bread.  You should check out the links below and fin out how to make these delicious staples at home!
Carmen from The Heirloom Chronicles made beautiful Rosette Bread Rolls
Francesca from Pancakes And Biscotti showed us how to make bread that is typically eaten in Emilia-Romagna called Tigelle
Daniela from Le Dani Gourmet baked some Focaccia Genovese
Travel Photo Of The Week
This is not actually Recco, since we didn't get to stop there really, but it is in Liguria: in San Remo to be exact.  The houses in Liguria in the older part of the towns are all beautifully coloured like these ones.  Just over the border in France, as far as Antibes see the same types of houses.  After all, Nice was actually part of Liguria until Napolean III did a big real estate deal in the 1800's and got it as a present from the Savoy Kingdom for helping them with some troublesome neighbours.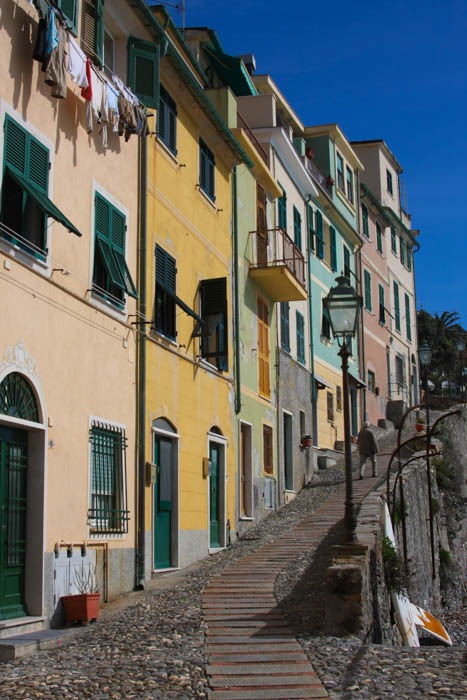 by Lisa Watson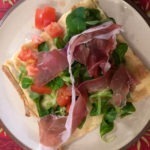 Print Recipe
Focaccia di Recco
How to make Focaccia di Recco: Cheese stuffed bread from Liguria, Italy
Ingredients
250

g

All-purpose flour

8.8 oz

250

g

Manitoba Flour

8.8 oz

260

ml

Water

1 cup

50

ml

Olive Oil

1/4 cup

10

g

Salt

2 tsp

500

g

Crescenza or Stracchino Cheese

17.6 oz
Instructions
Using a standing mixer, knead all the ingredients except the cheese for 10- 15 minutes.  the dough must be smooth and elastic.  Add a little more water if it looks dry.

Form the dough into a ball and cover with plastic wrap or a tea-towel.  Leave  to rest for 1 hour.

Cut the ball in half and form two balls.  Leave to rest for 15 minutes.

Grease a cookie tray with olive oil.

Heat the oven to 250 C (500 F)

Take the dough balls one at a time.  Gently stretch out the dough on a floured surface until it is the size of the cookie-tray.  Try not to rip any holes in it!  It must become so thin that you can see light through it.

Gently drape it onto the cookie tray.

Cut the cheese into at least 20 roughly equally-sized lumps, and place them evenly over the dough.

Stretch out the second ball of dough to the same size.

Place it carefully on top of the cheese.

Press the edges together and cut off any bits of dough that are overlapping the tray.

Sprinkle with more salt and with olive oil.

Bake for 15 – 20 minutes until the dough is golden-brown.