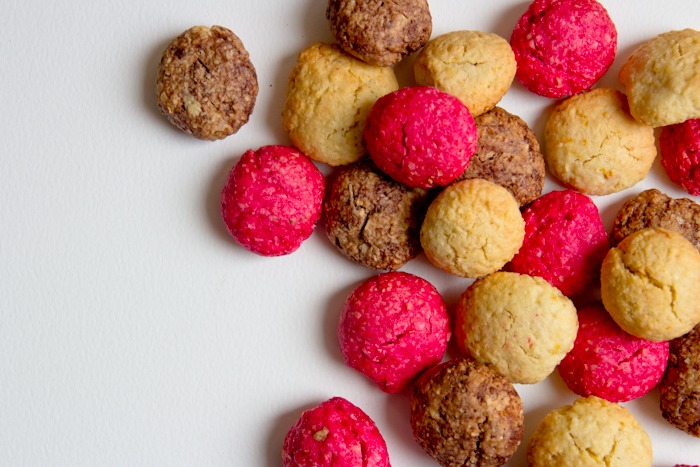 What are Fave Dei Morti cookies?
I decided not to translate the name of these biscuits in the title, Fave Dei Morti, as I'm not sure how many people would want to read about cookies called "Broad Beans of the Dead".  They don't sound very appetising in English! The almond cookies are traditionally made in many regions of Italy at the end of October to be eaten during the period of Ognissanti, or All Saints' Day. I read in a few places that these cookies were originally eaten at funerals in Ancient Greece.  I don't know whether this is true or not, but it's kind of nice to think that people could have a tiny taste of joy at such a sad event.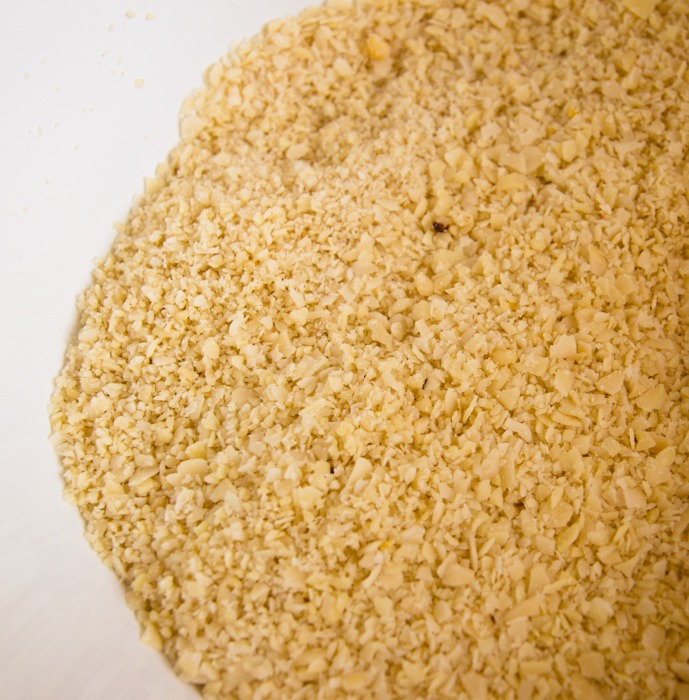 The origins of  fave dei morti
The biscuits were originally made with broad beans, but the main ingredient was changed to almonds as broad beans can be very toxic for certain people. In many Mediterranean countries, such as Italy, there is a hereditary condition called favism. For these people, eating broad beans leads to nasty symptoms and possible death (so the cookies were actually very aptly named once upon a time). The name fave has stuck, but now pretty much everyone can eat them without worrying about their health afterwards.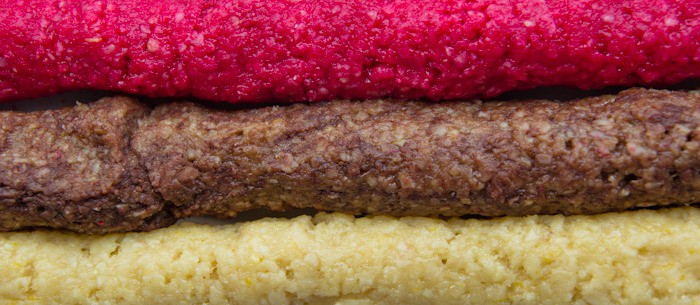 To colour, or not to colour?
The recipe for the fave dei morti cookies varies a little in different parts of Italy. Depending on where they are made also changes whether they are coloured or just left with the dough's natural colour.  I liked the idea of making colourful biscuits, so I decided make them as they do in the North-East of Italy, with three different hues.  The red ones you see in the photo should actually be pink, not red.  I got a little carried away with the food colouring!  They tasted delicious anyway, but maybe are not as traditional to look at as they should be.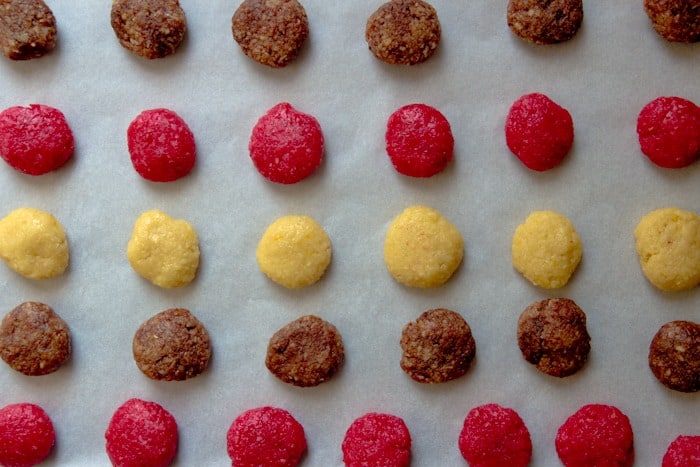 This post is part of the Cucina Conversations group.  This month you can find recipes from its members, celebrating Ognisanti and the Fall season. Here's what you can check out:
Marialuisa's Nzulli biscotti with almonds
Carmen's Savoiardi biscuits
Rosemarie's Castagnaccio
Francesca's Fettuccine con Zucca e Porcini
Flavia's Apple Torta Sbrisolona
Daniela's Chestnut Pancakes (Necci) with Ricotta
By Lisa Watson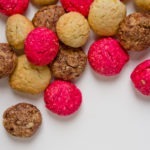 Print Recipe
Fave dei Morti
Colourful Fave Dei Morti Cookies are made in Italy at the end of October to celebrate "Ognisanti" (All Saints). Find the easy recipe to make them here.
Ingredients
150

g

All-purpose flour

1 1/4 cups

250

g

Peeled almonds

8.8 oz

50

g

Pine-nuts

1.8 oz.

100

g

Icing sugar

3.5 oz.

2

Eggs

Lemon zest

from 1 lemon

2

tsp

Cocoa powder

1

pinch or drop

Red Food Colouring
Instructions
Heat the oven to 180°C /350°F.

Use a food processor to blend the almonds and pine-nuts into a  "flour".

Beat the eggs until they become thick.

Sieve the all-purpose flour and icing sugar. Add it to the 'nut' flour, and mix.

Add the egg mixture to the dry ingredients, and mix well.

Break the dough into three pieces.

Knead the lemon zest into one ball, the cocoa powder into the second, and the food colouring into the third, until they are evenly coloured.

Roll the dough balls into long sausages.

Line a baking tray with baking paper, then break off bits of dough a little smaller than the size of a walnut and roll them into a ball, then flatten them very slightly. Place them on the baking tray with at least 5 cm/2 in distance between the cookies.

Bake for 10 – 15 minutes until they are slightly browned.

The cookies can keep for a week in an air-tight container.