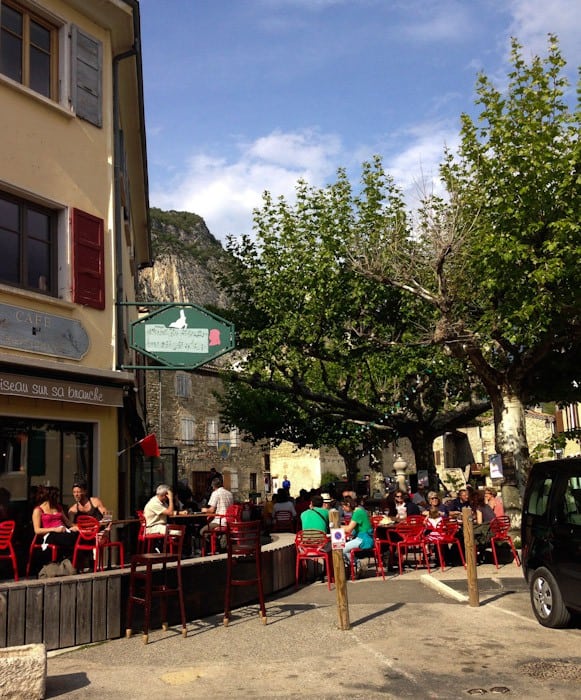 Where in France is The Drome?
There was yet another long weekend in France last weekend. They come thick and fast in the month of May; so much so that it seems that everyone is on holiday more often than they are at work or school. These are the times in which I embrace the French culture whole-heartedly. I mean, who am I to deny myself some vacation time when it's waved under my nose? We decided to do a little exploring in France and catch up with some friends who escaped the rat-race of Paris a few years ago and moved to an area called The Drôme. In the next few posts, I'll be telling you all about it as I was stunned by the beauty and emptiness of the area. There are so many of these hidden places in France. When you start discovering them, you suddenly realise how large the country is, and how much there is yet to see! To help you find The Drôme on a map of France,  look south of Lyon and slightly south-west of Grenoble. It's an incredibly empty corner of France. The largest town in the area, Valance, has just over 60,000 people living in it.  The rest is made up of a few smaller towns and quaint villages, separated by rolling, forested hills. Where the forest stops, the vineyards begin. This is my kind of place!  For a start, look at the view of the tiny village of Saoû from the window of the apartment we stayed in: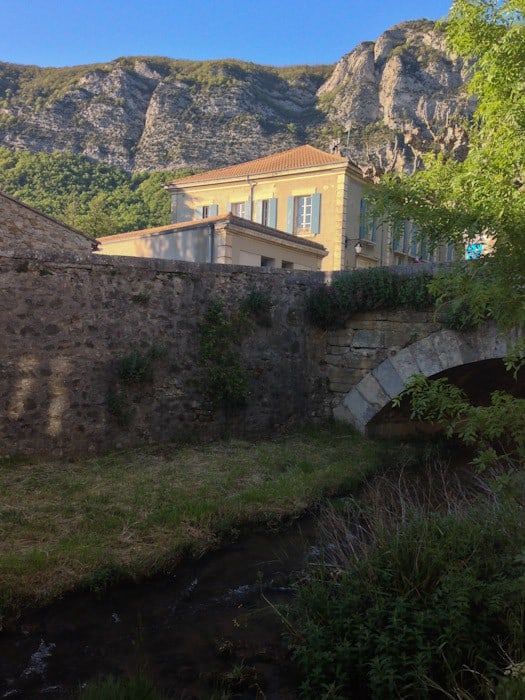 Church bells really make you feel European
It was fabulous to have the stream burbling past our bedroom, lulling us to sleep.  What wasn't quite so fabulous was that there are a few churches nearby that toll the hour and half-hour 24 hours a day, just in case you are awake at 3 in the morning and desperately need to know what time it is.  I guess that's part of the charm of being in a small European village. The village of Saoû lies at the entrance of an unique geological area called le forêt de Saoû.  I'll be telling you more about that in the next post, but I'll just say for now that there's apparently no other place like it in the whole of Europe.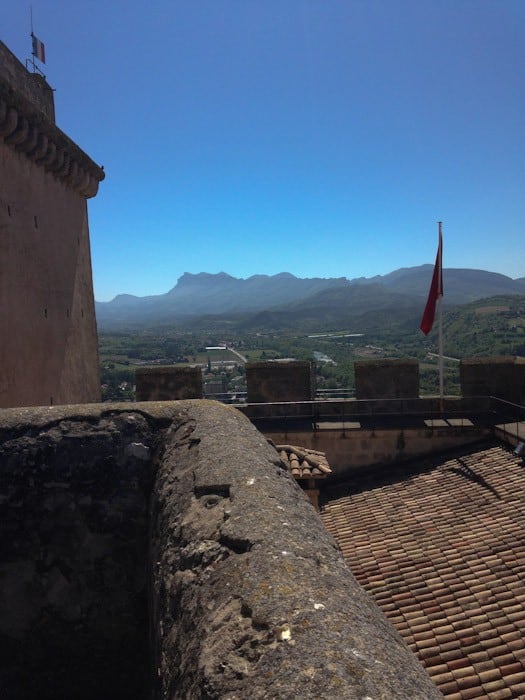 Discovering how tall the tower is in Crest
Not only do they have some one-of-a-kind rock stuff, but the village nearby called Crest (said "Kre") has one of the tallest medieval towers in the whole of Europe.  For a region hidden from most tourists, it certainly has some pretty amazing sights!  The photo above was taken after much huffing and puffing and climbing of narrow, uneven stairs.  Imagine: these are the same stairs prisoners and soldiers traipsed up and down from 1120, when it was constructed! The steps all have worn-out wells in the middle of them where thousands of people have placed their feet over all these centuries. It was first a fortress, then much more recently, around 1390, it became a prison for a few hundred years.  You can still see a whole lot of graffiti scratched into the walls dating back to the 17th Century.  They wrote pretty much the same things they write now; maybe less the swearwords.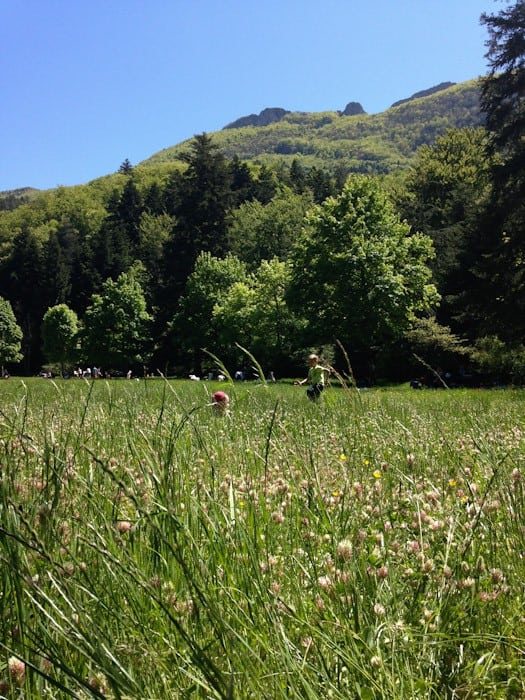 Where to get refreshments after all that climbing
After that strenuous sightseeing, it was time to lie around in a butterfly-filled field (but, of course!) in the Saoû forest, with the moans of a bored pre-teen (my eldest) echoing in our ears, we gave up on that after a bit and retired back to the village of Saoû, and to the beer garden run by a company who brews fantastic beer right on the premises.  We unfortunately, didn't have a horse to park outside.  Next time, we'll have to bring one. Markus Biere has a beautiful beer-garden out the back of their brewery; chairs and tables are scattered around on the grass under leafy trees. It's a place that's very hard to leave!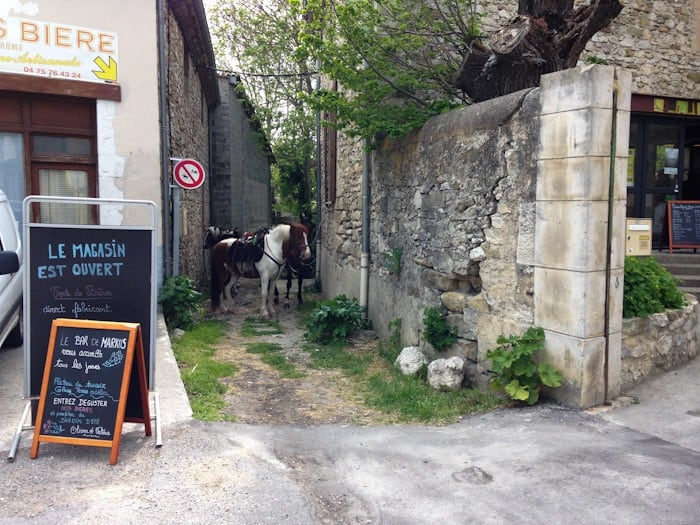 And a Japanese recipe-book
Next time, I'll tell you all about the Saoû forest, and some bubbly white wine we discovered there that has a history stretching back to the Roman times. Before I go though, I want to tell you about the friends we went to visit.  If you're into Japanese cooking, or want to learn, I have a book for you!  Our friend, Laure Kié, who lives in this beautiful region, has written a whole lot of cookbooks, some of which have been translated into English and some into Italian.  They're beautifully photographed and she takes the fear out of discovering how to cook Japanese dishes. She made sushi for us on the first evening we were there. Wonderful!!!!
By Lisa Watson
This post is part of a Linky Party  put on by Phoebe from the lovely gite called Lou Messungo on the Cote d'Azur. Come check out the blogs of those who took part to find out all sorts of interesting things about France:
By Lisa Watson