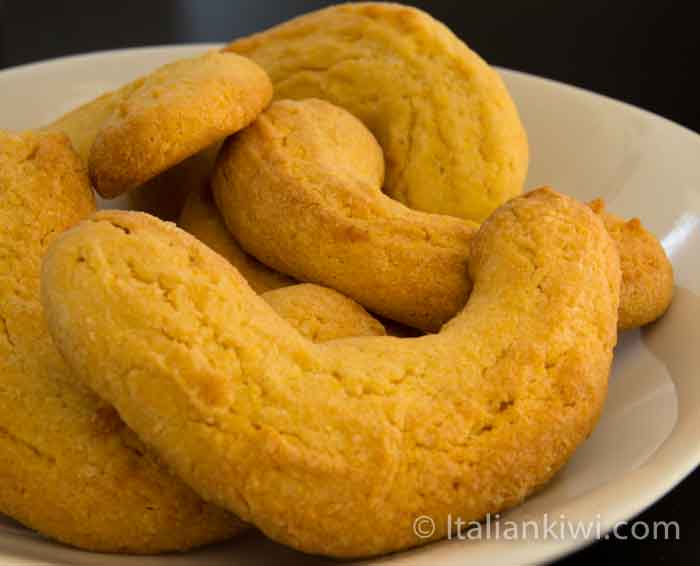 Crumiri and cappuccino: a breakfast made in heaven!
Whenever I am in Turin, one of the first things I do on the first morning I'm there is go to the bar and drink a cappuccino (of course!) and grab a biscuit to munch on that is made with polenta flour.  The cracking of the cornmeal grains between your teeth is somehow incredibly satisfying. These cookies called crumiri, are typical of the Piemonte region of Italy in the North-west, where my husband comes from.  I'm very grateful for the fact that it comes from that part of Italy, so I have an excuse to go and eat these biscuits often! For some reason, I'd never tried to make them at home before.  I heard mentions of piping bags, and scary things like that, so I'd put them to the back of my mind. Recently I came across a recipe in an Italian cookbook that said that there was no need for any special equipment at all, except for a fork to make them look pretty.  I decided to launch myself into the making of crumiri, and discovered that it is actaully quite easy to do at home.  No longer do I have to wait until my next trip to Turin to scoff myself silly with them!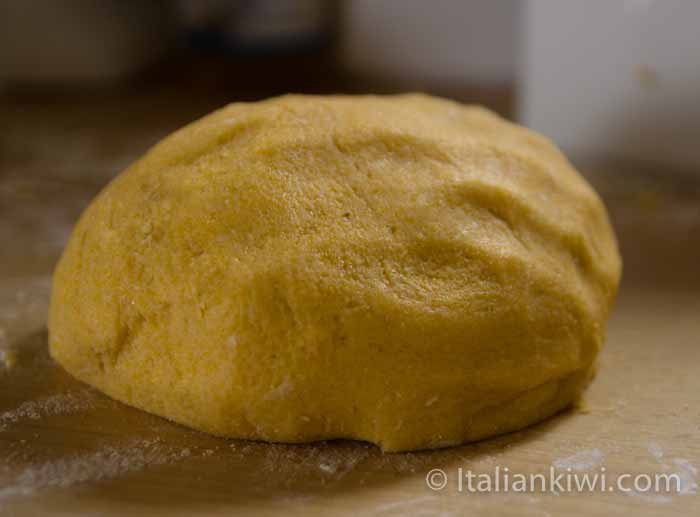 Why are crumiri cookies shaped in a U-shape?
It is said that the half-moon shape of crumiri represents the voluminous moustaches of King Vittorio Emanuele II, who was the first king of Italy when it actually united to become Italy as we know it today (except without a king now, of course). If you go to Italy, you'll find all sorts of things named after Vittorio Emanuele II: streets, piazzas, monuments.  I guess trying to call the crumiri "Biscotti di Vittorio Emanuele II" was a bigger mouthful than the cookie, so Domenico Rossi, the baker who developed them, called them crumiri.  The actual origin of the word "crumiri" is unknown.  Maybe Mr Rossi just liked the sound of the name. 🙂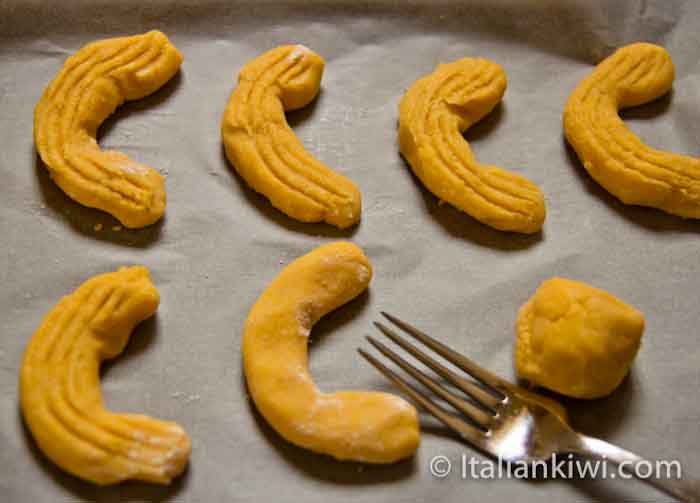 And just to finish, before I go and make myself a big cup of tea and chomp on some of the leftover crumiri before the kids get home (and eat them all!), I'd just like to say happy New Year to you all!  There are going to be all sorts of interesting things happening here this year, including a trip to New Zealand!   So, stay tuned and thanks to all of you who come to visit me here in this small part of the blogosphere!  I love your return visits!
By Lisa Watson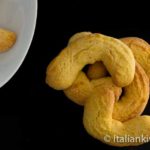 Print Recipe
Crumiri (Crunchy Cornmeal Cookies) from Italy
how to make delicious Crumiri (Crunchy Cornmeal Cookies) from Italy
Ingredients
200

g

Polenta Flour (cornmeal)

1 1/2 cups

250

g

All-purpose flour

2 cups

100

g

Sugar

1/2 cup

1

packet

Vanilla sugar

or 1 tsp Vanilla Essence

220

g

Butter

7.7oz, 1 cup

3

Eggs
Instructions
In a food processor, or with a wooden spoon, mix together the dry ingredients.

Mix in the eggs.

Mix in the butter (softened to room temperature), either with short pulses of the food processor or with your fingertips, until an smooth dough forms. Add a little more flour if necessary.

Form into a ball and leave in a lightly floured bowl for 30 minutes.

Turn out onto a lightly floured bench.  Take pieces about the size of a walnut and roll then into sausages about 10cm (4 in) long.

Place on a tray covered with baking paper and curve them into a cresent shape.  Flatten them slightly, and run over the top of the cookies gently with fork prongs to make the grooves on them.

Bake at 200ºC (400ºF) for 18 – 20 minutes.