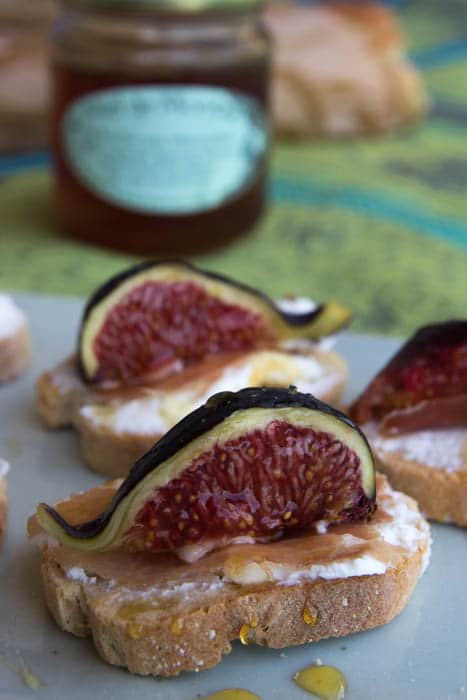 Aperitif time is my favourite meal of the day
One of my absolute favourite "meals" is the aperitif time.  I just love having lots of different snacks to choose from, all of which can be eaten with your fingers or a spoon. If I were elected President of the World, I would propose that the aperitif would become one of the essential meals of the day.  As I'm unlikely to be voted President of the World anytime soon (unless I turn into Zaphod Beeblebrox), I'll just have to make do with having it every so often. A while ago I wrote about the pre-dinner drink that has taken Italy by storm and is starting to spread into other parts of the world.  If you haven't come across the Aperol Spritz yet, I'm sure you will soon! The Spritz can be sipped while eating all the delicious bite-size offerings set out in front of you. One aperitif that is very quick to make is toasted rounds of baguette bread with various toppings on them, which in Italy are called crostini.

Watch out for unwelcome visitors when picking figs
Your topping choice is only limited by your imagination, and a little good taste in knowing what goes with what: Nutella with salami, for instance, is a bad idea. We have a fig tree in the garden that is overflowing with ripe figs and hornets right now, so I decided to brave the hornets and grab some figs to make these crostini with figs, ricotta, prosciutto and honey. Picking figs should be made into a sport at the X-games along with extreme skateboarding.  It consisted of me sneaking up to the tree, cautiously checking that there wasn't a resident hornet sitting in a hole it had made in the fig I wanted to pluck, grabbing the fig and then backing off quickly from the tree as the hornets buzzed around unhappily because I'd  shaken a branch. Who needs sky-diving when you can just go and pick figs in the Summer?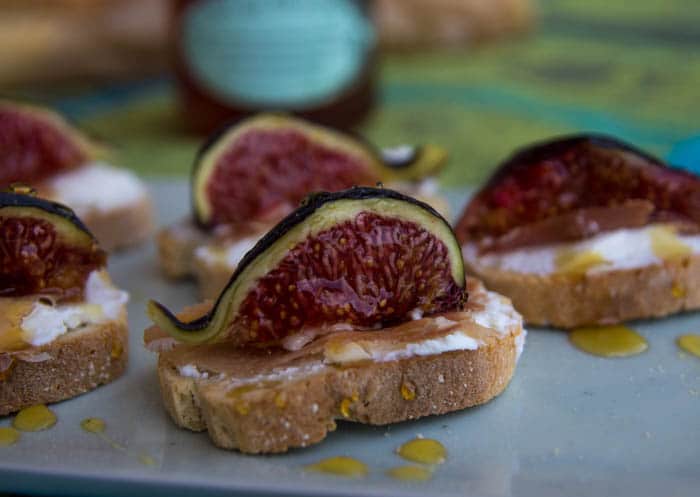 This post is part of the monthly Cucina Conversations blog link-up.  This month we're talking about the wonderful tradition in Italy and South-Eastern France of having an aperitif before dinner.  Check out some more recipes for delicious drinks and succulent snacks below.
Rosemary at Turin Mamma  cocktail drink, known as the Negroni Sbagliato,
Francesca at Pancakes and Biscotti will make Polpette di Melanzane (Eggplant balls)
Daniela at La Dani Gourmet made a very typical Italian aperitif of marinated anchovies known as  Acciughe Alla Povera
Flavia at Flavia's Flavors will bake some savoury biscuits called taralli pugliesi.
Marialuisa at Marmellata di Cipolle made mouth-watering Crostini With Salmon and talked about a prosecco made in Calabria.
Carmen at The Heirloom Chronicles squeezed lemons to produce home-made Limoncello
Travel Photo Of The Week
Below is a photo taken in Sicily, where fig trees grow in the wild, just like in the South-East Of France. The photo is taken looking through the vanes of a mill used for pumping sea-water in and out of shallow ponds to make salt, which is the white hill you can see below the vane. The salt is made in the village of Nubia, near Trapani, on the West coast of Sicily.  When we were there, we visited their salt museum, even though the idea of seeing a museum about salt seemed as interesting as going to visit one about stuffed frogs (which by the way is a real museum that we came across in Estavayer-le-Lac in Switzerland recently). The salt museum was actually really well done and surprisingly interesting as it described all the traditional  methods they still use to form and harvest the salt. Everything is done by hand and shovels.  This has made the salt very sought-after in many of the great restaurants around the world.  When there's not much of it made, it suddenly becomes very desirable. I honestly couldn't taste the difference between normal salt and this one (my taste-buds are obviously not sensitive enough), but I do admire the backbreaking work that goes into making it.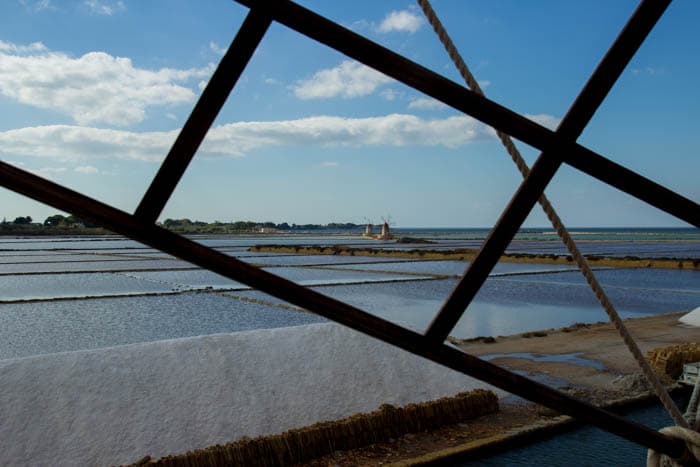 By Lisa Watson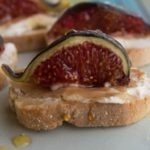 Print Recipe
Crostini with ricotta, figs, and honey
An easy and delicious canapé for your guests: crostini with figs, ricotta, and honey will delight them!
Ingredients
20

Slices

baguette style bread

Fresh Ricotta

approximately 4 Tbsp

5

medium Black Figs

1

slice

Raw ham

Liquid Honey

to taste
Instructions
Slice the bread, lay the pieces on a cookie-sheet in a single layer and grill them on both sides until slightly browned.

Let the slices cool, then spread with ricotta.

Tear or cut the ham and place a piece on each of the crostini.

Quarter the figs with a sharp knife and arrange one on top of each piece of ham.

Use a small teaspoon to drizzle honey over the crostini.

Serve immediately.