My favourite chocolate maker in Turin
When you're in Turin, one of the things you should absolutely do after (or during) drinking coffee and wandering around the streets marveling at the architecture, is stop in at a chocolate shop to sample one or two (or MORE) of their chocolates.  Turin is famous for its chocolate, and especially known for a small triangular prism-shaped chocolate called a gianduiotto (plural: gianduiotti).  You can buy them at many cafes around Turin, but my favourite place to go to get them in a chocolate shop called Guido Gobino, which is set up in an old pharmacy. This chocolate maker is a relative newcomer to to chocolate scene in Turin, as the Gobino family only recently took over the business in 1980.  Yes, I know that's nearly 30 years ago, but in Turin chocolate-making time, that's nothing.  The venerable chocolatiers who first developed giandiuotti started producing them way back in 1865.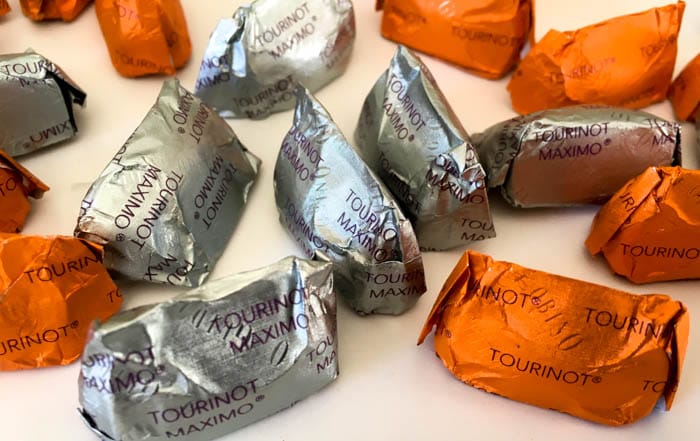 What is a gianduiotto chocolate?
The gianduiotto is made of a mixture of ground hazelnuts and chocolate. The idea of combining the two ingredients first came about in a time when it was difficult to get cocoa solids to make chocolate.  The chocolate makers from Piedmont looked around for a local product that they could use to "flesh out" the cocoa solids and make them go a little further, and lo and behold! They saw a plethora of hazelnut trees littering the countryside! Thank goodness they didn't go with rice or apples, which are also big crops in Piedmont.  I have a feeling that it wouldn't have had quite the same success.  The Piedmont company Ferrero capitalized on this flavour combination too, back in the 1940s and brought Nutella to the world. Honestly, giandiuotti taste infinitely better than Nutella, but the basic two ingredients are the same. In case you are wondering, the chocolates pictured above are half-sized gianduiotti, so are called tourinot instead.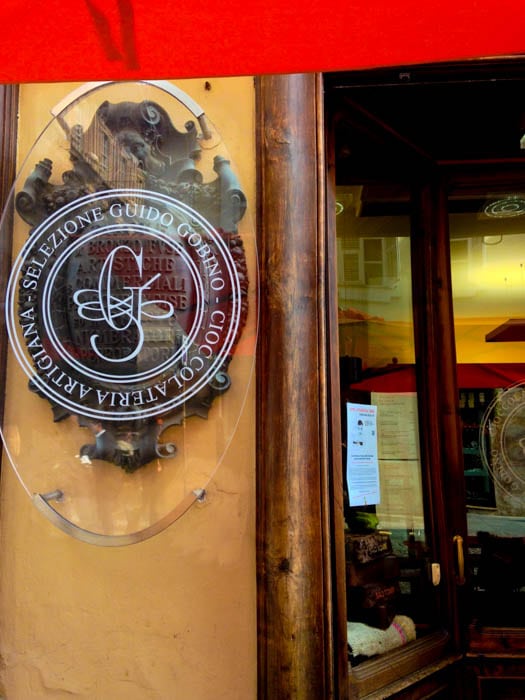 Chocolate paradise
Before you even walk into the Guido Gobino shop, your eyes are attracted to the window displays, which generally are made up of chocolates artistically arranged brightly wrapped chocolates displayed on black velvet, just like the edible jewels they are.  Don't stop there though.  Once you push the door open, you are going to enter into a world you never knew existed.  A world of sweetness just waiting to engulf you in its chocolate-y grip.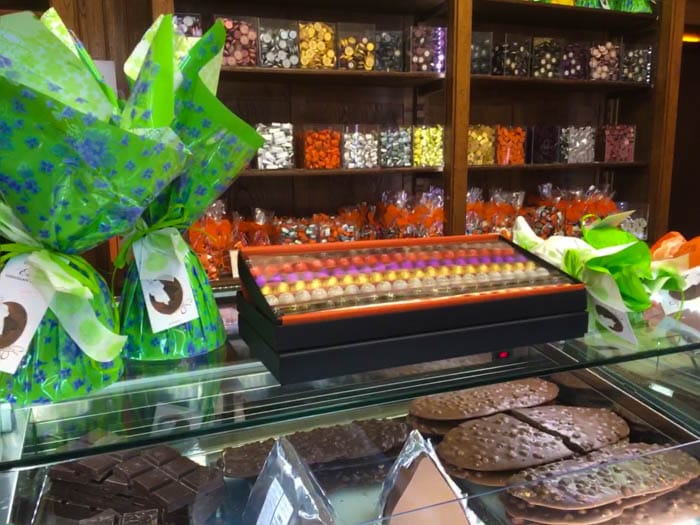 So, go in if you dare, but be warned: you won't be leaving empty-handed. Once you enter, you are surrounded by dark wood paneling from the original pharmacy, and chocolate in every shape and form that you can imagine.  It makes it difficult to choose what to buy!  Luckily, they will give small taste tests to help you out. In the last few months, a cafe area just outside the shop has been added.  I can't vouch for the coffee there yet, as it hadn't yet opened properly when I was in Turin last, but I would bet my bottom dollar that the hot chocolate is fabulous.  Let me know if you try it!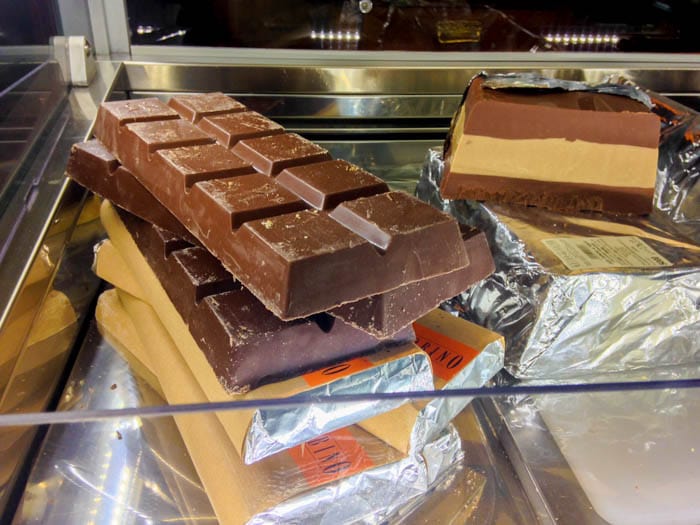 A trick to getting discounted chocolate
And now for a slightly secret hint to get these wonderful chocolates at a cheaper price.  If you don't mind them being wrapped in the wrong wrappers, or slightly malformed (they still taste the same), you can go to the factory shop, just outside of the center and buy bushels of chocolate for much less than the ones in the shop in town.  While you are there, you can also book a  tour to see how the chocolate is made.  I have to take this tour myself one of these days! So far, I've only been there to grab as much chocolate as I can.  A word to the wise: just after the end of the Easter period is absolutely the best time to go there.  It's amazing how often they don't get the shape of the Easter eggs quite right.  All the better for the bargains!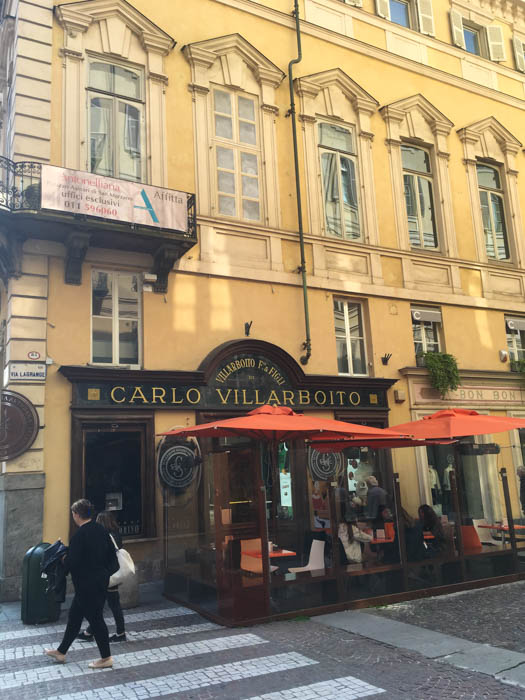 By Lisa Watson