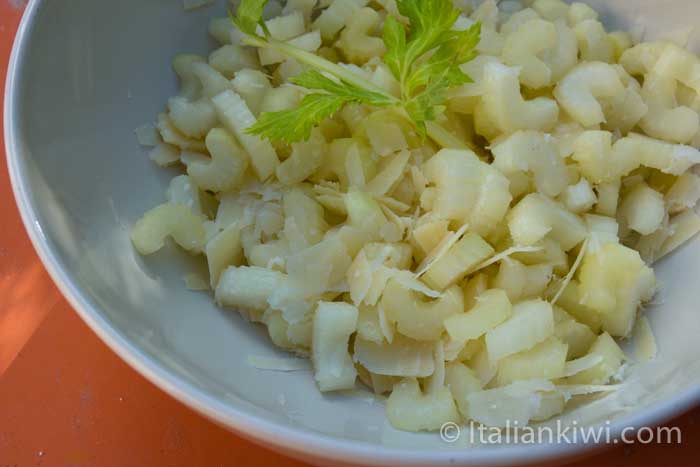 Have you ever had white celery?  I hadn't until I came to Italy for the first time.  I'd only ever seen the green stuff, with which I had a very dubious relationship.  I don't like peanut butter, so smothering it in that goop so that I could eat the celery was out of the question, and by itself, I felt like I was eating crunchy water mixed with string.  Let's just say that green celery and I had reached that point in our relationship where we were circling around each other warily: the celery feeling unloved and me becoming more and more skeptical that it was worth the effort to keep trying to like it.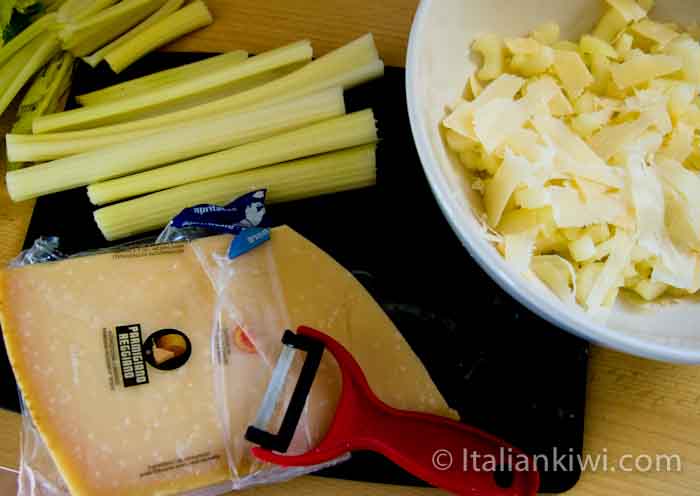 At nearly the point of no return, I crunched upon this celery salad made with WHITE celery and parmesan cheese when we were in Turin visiting my parents-in-law. Suddenly everything was different!  Our relationship has improved dramatically since then.  I will happily eat even the green stuff, even if it turns up uninvited, and if white celery is there, I'll chomp it up and really enjoy it! In the end white celery is just green celery that has been grown in the shade, but somehow the taste of it is more subtle and it is less "stringy".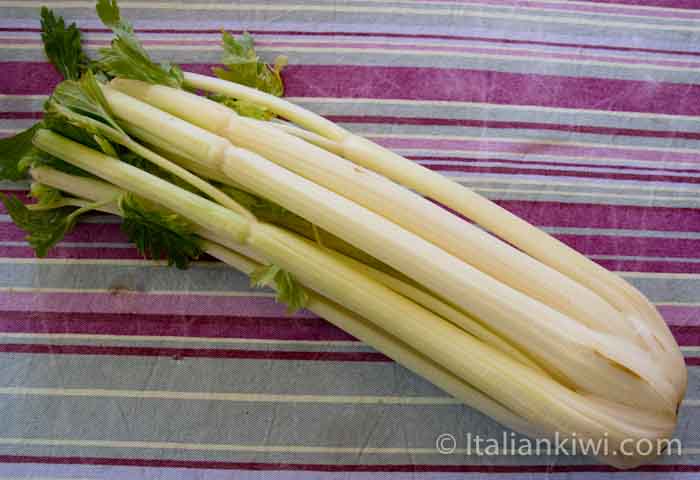 Of course, if you are a fan of green celery (or can't get the white one), this salad is also very good with green.  The saltiness of the Parmesan cheese goes very well with it.  Not only does it taste good, you'll feel virtuous while eating it!  If you want to go really wild, you can add a few chopped up walnuts too.*
Travel Photo Of The Week
Now, as a final as it seems to be becoming a theme, here's the "Travel Photo of the Week" of Portofino in Liguria.  It's a very pretty, but very exclusive village on the coast.  Forget trying to stay there unless you're rolling in money!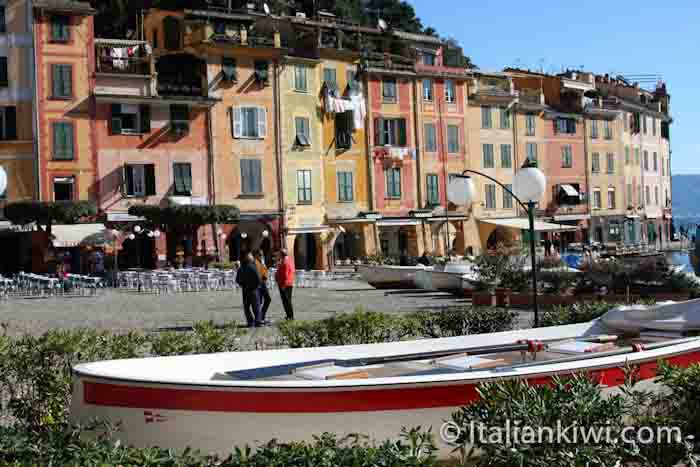 By Lisa Watson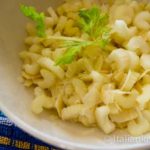 Print Recipe
Ingredients
1

bunch Celery

white or green

20 – 30

g

1 -2 oz Parmesan cheese

3

Tbsp

Good olive oil

3

Tbsp

Red wine vinegar

to taste Salt

to taste

optional White pepper
Instructions
Slice the celery into thick slices after washing it.

User a potato peeler to peel off thin slices of parmesan cheese.

Mix all the ingredients together in a bowl and eat!