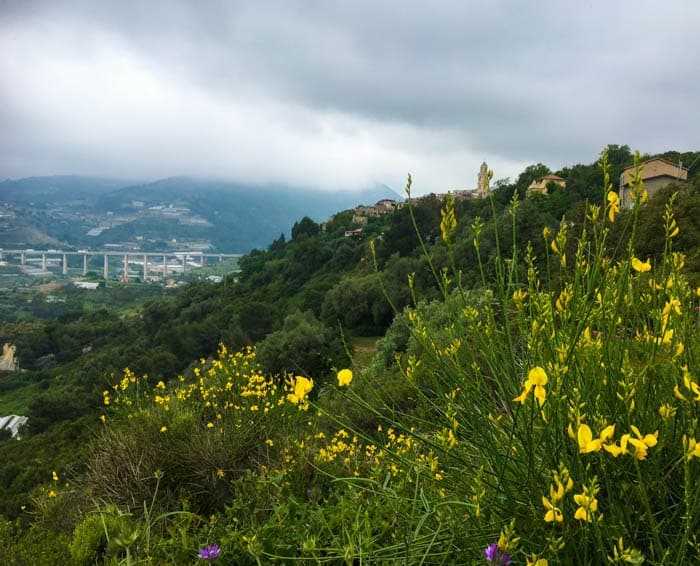 Where to eat in the village of Bussana Vecchia
Remember that I promised you a couple of weeks ago that I'd tell you where to eat once you've explore the wonderful village of Bussana Vecchia on the Ligurian Coast of Italy ? Well, here I finally am to divulge all the eating secrets of this tiny village after a bit of a delay. School holidays have just started here in France and suddenly my kids have pressing needs to be driven here and there for absolutely unmissable life-changing meetings with indispensable friends, so I've been a little busy.  Teenager-hood has definitely raised its head in our household. I always find it so interesting how everything that happens in a teenager's life suddenly becomes so overwhelmingly make-or-break in their eyes.  Everything that happens has a dramatic, theatrical tint to it.  Though, that is also what makes teenagers so fantastic when they decide to put this passion into a cause or interest.  They're so passionate about everything that when they decide to do something, nothing will stop them (of course, this can also be a bad trait, depending on what they are determined to do!).
Anyway, I'm going off on a tangent as usual, so it's time to get back to eating out in Bussana Vecchia.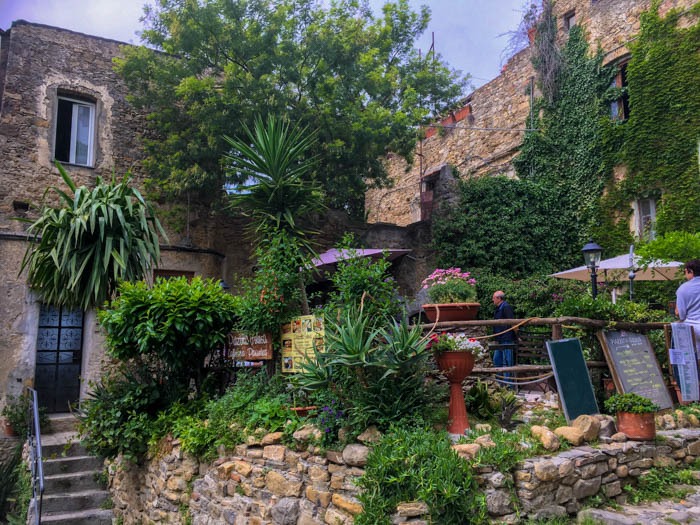 Fabulous cappuccino
There are two wonderful, complementary places to eat when you visit this tiny village.  Luckily, you can try both places, as one is a cafe and the other, a restaurant.  As you walk up into the village, you'll bump into an outdoor cafe shaded by large umbrellas called the Piazzetta Golosa. We stopped here for a fabulous cappuccino, and drank it seated on the terrace surrounded by greenery.  The cars can't really drive up past the cafe, so it is incredibly calm and quiet. The cakes and savory food are all home-made and all looked very enticing, but as it was just before lunch, I didn't end up getting anything.  I will next time I go there though as it all looked absolutely delicious!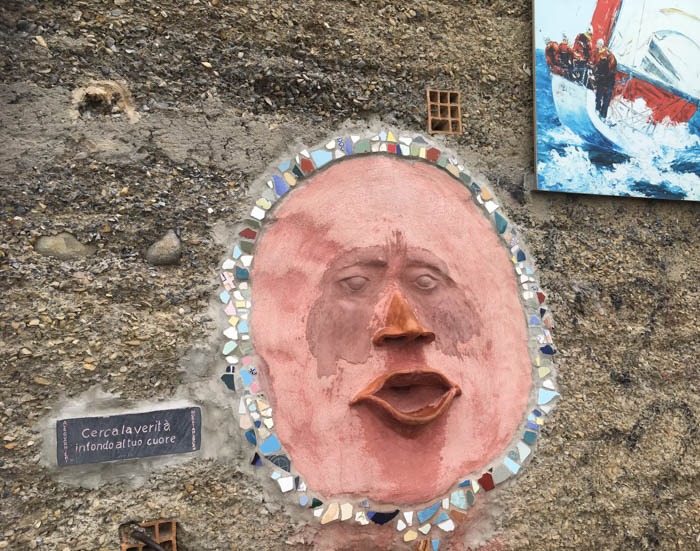 The couple who run the cafe are very friendly.  When I went to the bar to order the coffee, a local and the owner pulled me into a conversation about a car that had got stuck on the train tracks down near San Remo the day before (in case you are worried, nobody got hurt).  I felt like a local too, to be included in the gossip of the day!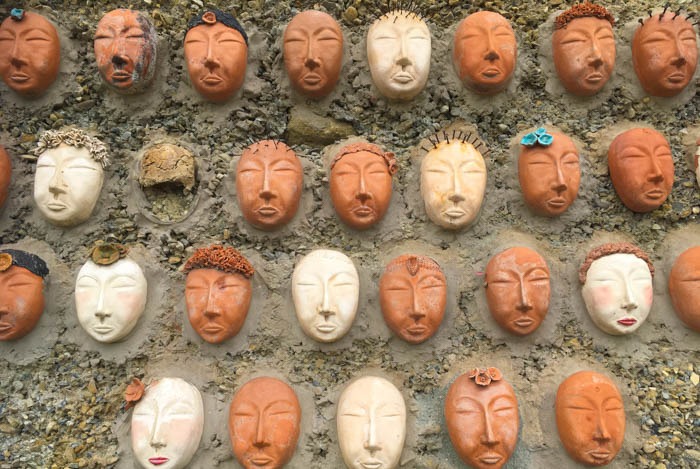 Discovering hidden art everywhere
After wandering around the village to gaze at the semi-restored buildings and the artwork that hides around every corner, we started to get a bit peckish, so thought we would head down to the coast for lunch.  As we walked back to the car, we passed the restaurant called La Casaccia that you can see below.  On the way up, we had thought that it was closed as they were repainting it, which is why there is newspaper and plastic stuck all over the signs and the lamps.  that's not actually the permanent decoration.  The waitress was wiping down the outside tables ready to open the restaurant, so we decided to try it out.  We were sure glad we did!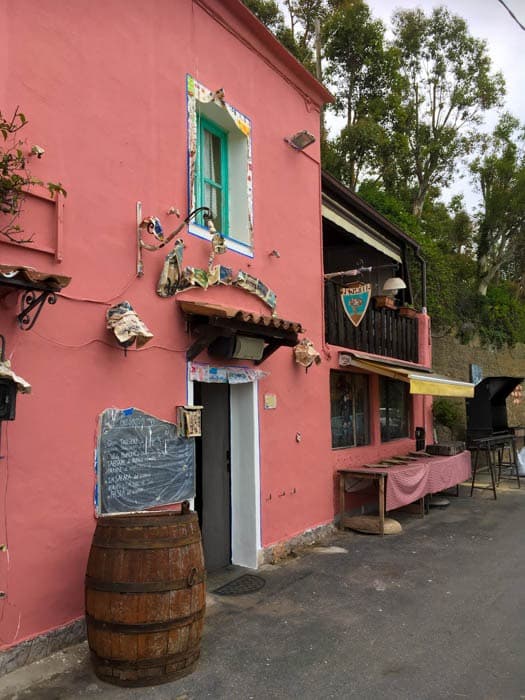 The not-to-be-missed restaurant in Bussana Vecchia
For a start, you sit at trestle tables that have the view you can see in the photo below, looking down over the coast and the Mediterranean Sea.  We decided that even if that food was bad, the view would be completely worth it.  In fact, the food was great, but I'll tell you about that in a minute.  If the weather isn't so good, they have a lovely indoor part of the restaurant that would have been a pleasure to sit in too, though there is no view from the inside, it is very cosy.  I forgot to take a photo of it, but you can see photos on Tripadvisor of the artistically decorated interior. The waitress spoke Italian (of course), French, and English very well, and who knows, she probably speaks other languages as well.  She immediately came to apologize that the charcoal bbq that much of the food is cooked on wasn't ready yet, but brought us some freshly fried chickpea-flour sticks, which more than made up for the wait.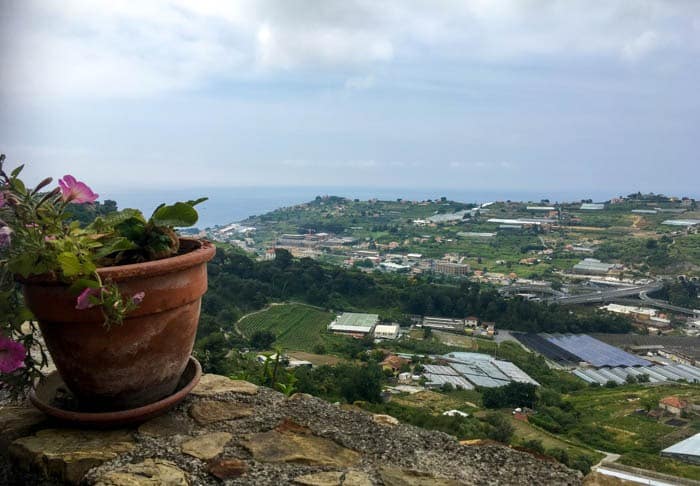 The sadness of discovering a much-loved restaurant has closed down
One of the choices on the menu were special lamb skewers that you can see grilling on the funny shaped grill in the photo below. These skewers are actually a specialty from the Abruzzo  region of Italy.  As there was a relatively intense migration of people from Abruzzo to Liguria many years ago, you can still get these skewers in many restaurants near Sanremo, like the one I wrote about here called Gabry. Now, I just looked up Gabry as I couldn't remember the name and nearly wept over my keyboard as I've just discovered that this family-run restaurant has closed down after 30 years!  Just as well I discovered this restaurant so that I can get my rostelle fix when I need it. In Abruzzo these skewers made of "hogget" meat are called arrosticini.  In Liguria, the name somehow became rostelle, but the skewers remain the same. For the record, a hogget is a 1 – 2 year old sheep, or as my farming father calls them "a two-tooth" (as that's how many teeth they have at that age).
Have a digestive after your meal
You can, of course, get other delicious things cooked on the charcoal grill, like baked potatoes with a creamy fresh cheese in them.  I didn't get to the desserts as we we so full from all the rest of the food we scoffed, but I hear that they are good to.  After a free digestif of mirto, a high-powered liqueur made from myrtle berries collected on the slopes of hills in Sardenia and Corsica, and a chat with the very friendly chef and owner, we reluctantly turned down the offer of a second glass of mirto in an act of self-preservation, knowing that at least one of us had to drive down the narrow, windy road back to the coast.
By Lisa Watson