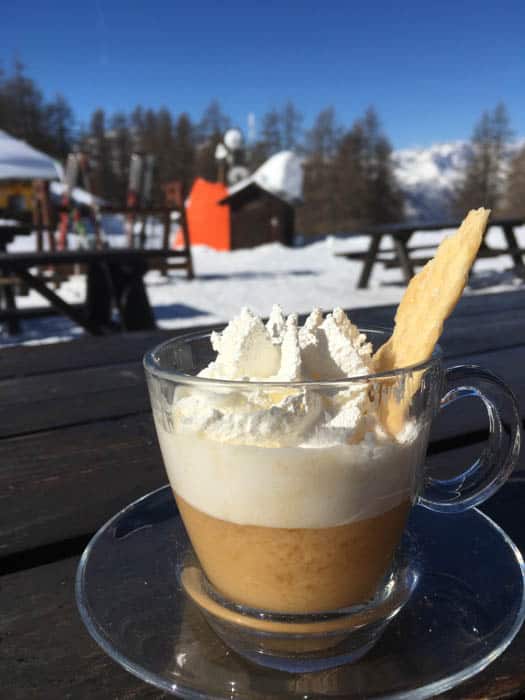 Bombardinos are an excellent reason to go to the mountains in Italy
One of the joys of being in the mountains in Italy in the Winter while have a break from skiing or snow-shoeing, or sunbathing, is drinking a deliciously potent Bombardino that you find in cafes on the ski slopes. Well, actually, you can continue the sunbathing part while drinking the Bombardino, but make sure you rub sunscreen on your face first, as this heady concoction may put you to sleep and you'll wake up a while later with a semi-permanent sunglasses non-tan around your eyes.  The drink is made with hot brandy and Advocaat or VOV, which will definitely revive you after a day out in the snow!  It is said to come originally from the Italian Alps in Lombardia.  All the stories involve an Italian working in a mountain cafe trying to warm some cold people up quickly, and one of them yelling, "It's like a bomb!", and so the name Bombardino came about.  Who knows if it's true or not, but it is absolutely true that this drink hits your stomach like a hot bomb.  I would recommend a little relaxing time after drinking it as you may not have all your reflexes with you if you go out skiing again straight after downing one.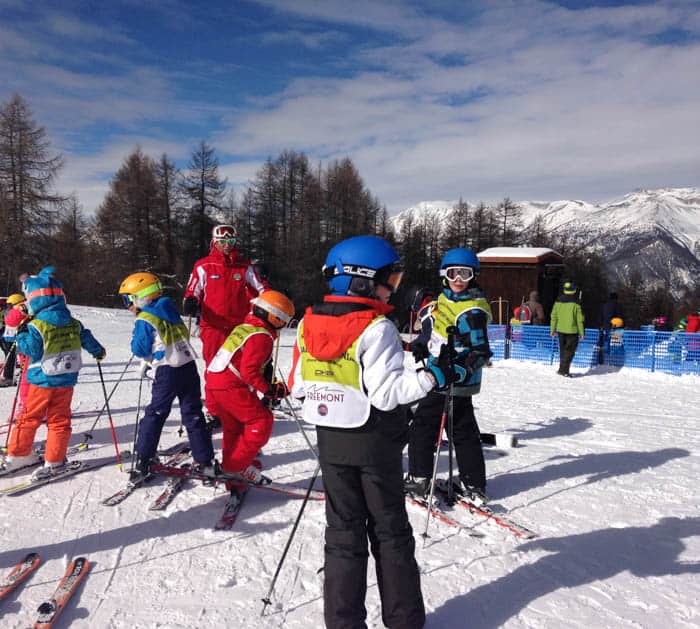 You don't have to ski to go drink a Bombardino
When we were enjoying a week in the Susa Valley in Italy recently, my husband and I left the kids  to hurtle themselves down various mountainsides with their ski instructor, and decided to take a well-deserved break from our exhausting snow holiday and drink a bombardino in the sun.  Well, he'd been skiing already so could drink one without guilt.  I, on the other hand, had wandered to the chairlift and taken it to within one minute walk of the ski-field bar.  Breathing in mountain air uses up more calories than just breathing in sea-level air, doesn't it?  I'm sure I can find some site on the internet that declares that breathing mountain air is a weight-loss program.  If you look hard enough, you can find anything to support any random idea you want to believe in.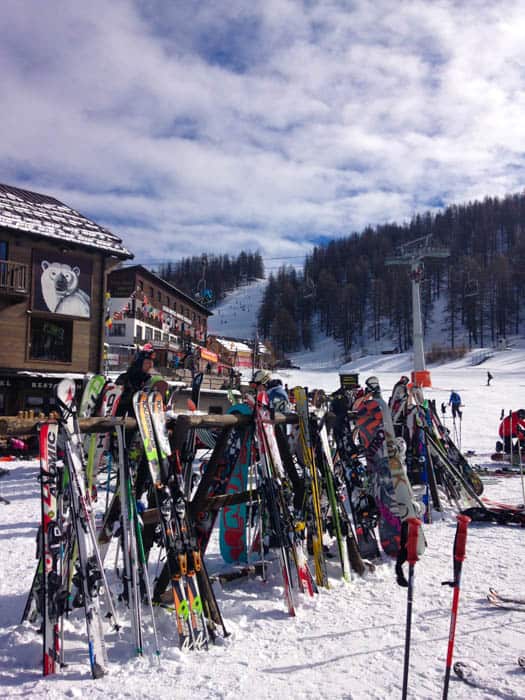 Two different types of mountain pick-you-up drinks
I ordered a Bombardino and my husband got a Calimero, which is a Bombardino with a shot of espresso in it (just in case the drink isn't already potent enough). The danger of the Calimero is that you can't taste the alcohol as much so it's easier to drink it more quickly! It was the first time I'd had one of these.  I can testify that it makes you happy and warm at the first sip.  I'm not a huge fan of whipped cream, but it really goes well with the alcohol, and tones the strength down a little (at least taste-wise).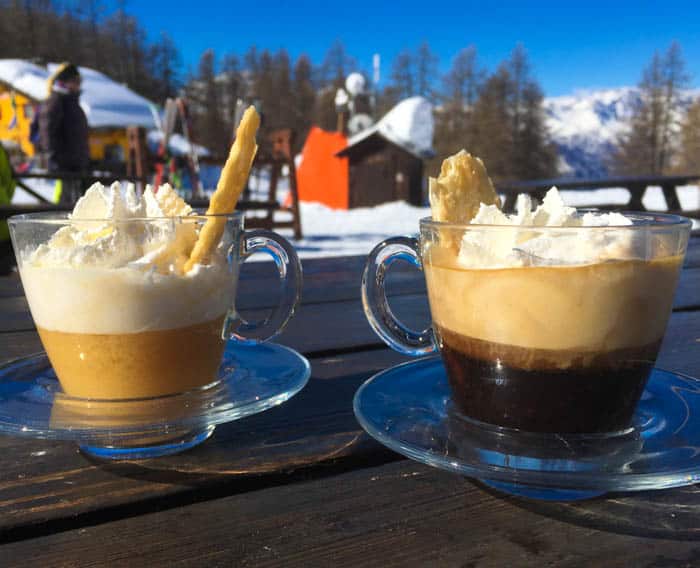 Tips for making a Bombardino at home
The bombardino can be made with other spirits as well, such as grappa or whiskey, but the one I've seen around most is the one with brandy.  You can make it easily at home with or without an espresso machine.  In the Italian bars, they put the alcohol in the metal jugs they froth milk in ( for the joy of the next person to have a cappuccino!), and use the steamer on the machine to heat the drink.  If you don't have an espresso machine, you can just heat it on the stove-top.  The quantities I have given in the recipe below are approximate; the important amount is the one to one ratio of  VOV to brandy. In the end, you can drink as little, or as much, of the bombardino as you like, depending on your tolerance for alcohol!  Just don't go driving afterwards!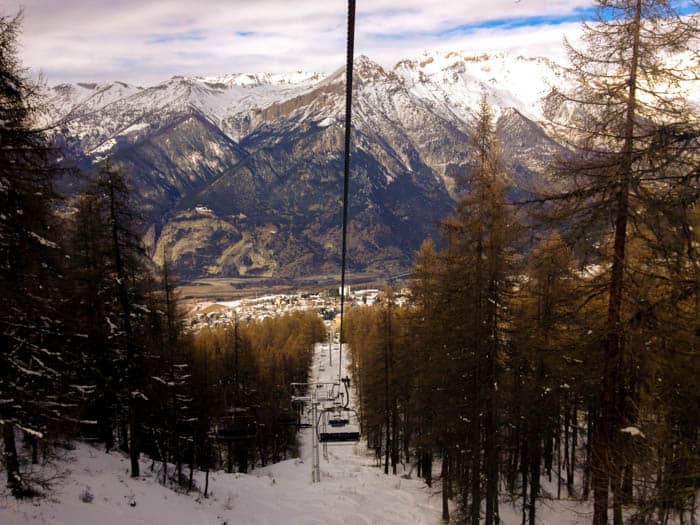 By Lisa Watson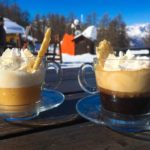 Print Recipe
How to make a Bombardino
Bombardinos, Snow And Ski Fun in Sauze d'Oulx: how to make the potent pick-me-up drink they drink in the Italian alps.
Ingredients
60

ml

Advocaat

2 fl. oz/4 Tbsp

60

ml

Brandy

2 fl. oz/4 Tbsp

Whipped Cream
Instructions
Heat the Advocaat and brandy on the stove-top until hot. If you have an espresso machine with a steam function,put the alcohol is a metal jug and steam it until it is hot.

Pour it into a cup, or heat-proof glass.

Top with whipped cream and serve immediately.