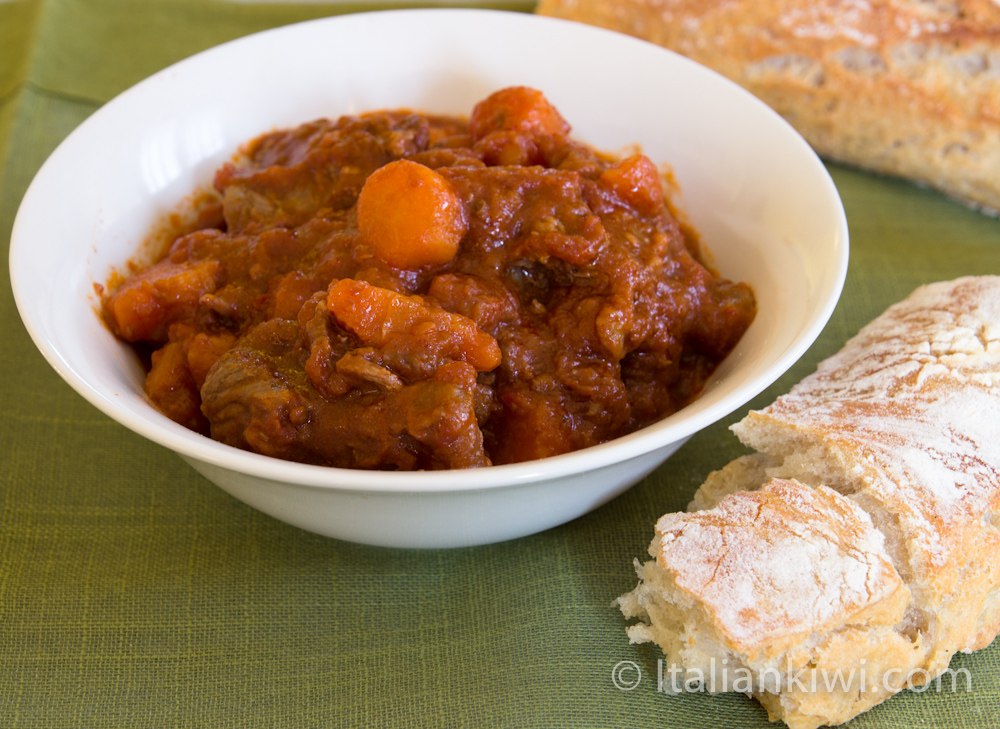 With the nights getting colder, beef stew is very welcoming
Winter's rolling in.  There's frost on the grass in the mornings and ice on the car windows. Though, luckily where I live (at least in my opinion!), the temperature then rises to about 15 to 20 degrees C or so during the day.  It does make it hard to dress if you're going out for the whole day.  You end up sweating copiously while having to carry huge winter jackets, hats, scarves and gloves (yes, we're not very cold-resistant here).  Anyway, it means that the evenings are cold enough to light a fire in the fireplace and eat hearty dishes like "spezzatino".  Spezzatino is a delicious, slow-cooked beef stew, which literally melts in your mouth if it's cooked long enough. It's fantastic served with polenta or mashed potatoes to mop up all that good gravy that comes with it.
It never snows in Southern France
Although it stays pretty warm in the South of France most of the Winter, we do get one or two days of snow a year some years, as you can see from the photo below.  Fancy a dip anyone?!  The kids are always delighted because as soon as there are two flakes of snow, the schools close and they get to make snowmen that last pretty much until the sun comes out and everything melts at the speed of light!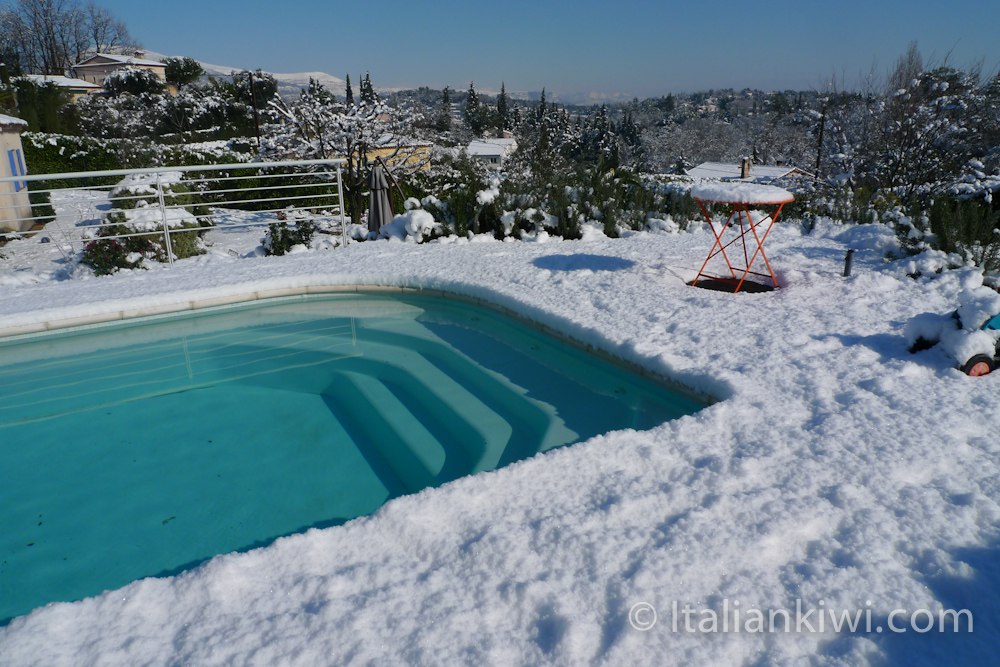 A handy hint or two for making beef stew
Anyway, back to the spezzatino a minute: if you have a pressure cooker (I know I'm always harping on how marvelous they are, but it's true!), you can make the stew in under an hour.  I've written the instructions under the traditional ones.  It's good eaten the day you make it, but it's even better if it's left to sit around and develop its flavours.  It takes a while to make, but most of it is just letting it do its own thing in the pot without you lifting a finger.  Just a little babysitting is all that's required!
By Lisa Watson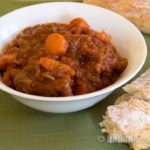 Print Recipe
Beef and carrot stew
Italian beef and carrot stew is a wonderful way to warm up on a cold evening. find the recipe on Italian Kiwi.
Ingredients
1

kg

Stewing Beef (e.g. chuck or bottom round)

2.2 lbs

1

Onion

1

whole clove Garlic

300

g

Carrots

10 oz

1 450

g

tin of crushed tomatoes

50 oz

2

medium potatoes

optional

300

g

Tomato puree

2 1/2 cups

1 1/2

tsp

Salt

1

Bay leaf

to taste Pepper

to cover Water
Instructions
Chop the onion and the carrots. Cut the beef into chunks approximately the size of a ping-pong ball.

Saute' the carrots, onion and whole clove of garlic in olive oil until the onion is translucent.

Add the meat and brown on all sides.

At this point, to make the sauce richer, you can add 1 cup of red wine and let it boil off.

Add all the other ingredients, except the potatoes.  Add water until the meat is covered.

Bring to a simmer and cook for approximately two hours, until the meat starts to fall apart. Stir occasionally and top up the water if the stew is becoming dry. Add the potatoes, cut into chunks, after 1 1/2 hours.

Turn up the heat and boil to reduce the liquid.

This dish is best made a day or two before it is eaten to let the flavours develop.
If you have a pressure cooker
Follow the instructions until number 5. Close the pressure cooker and let cook for 30 minutes from the whistle. Take the lid off and add the potatoes, then close the lid and cook for a further 15 minutes.