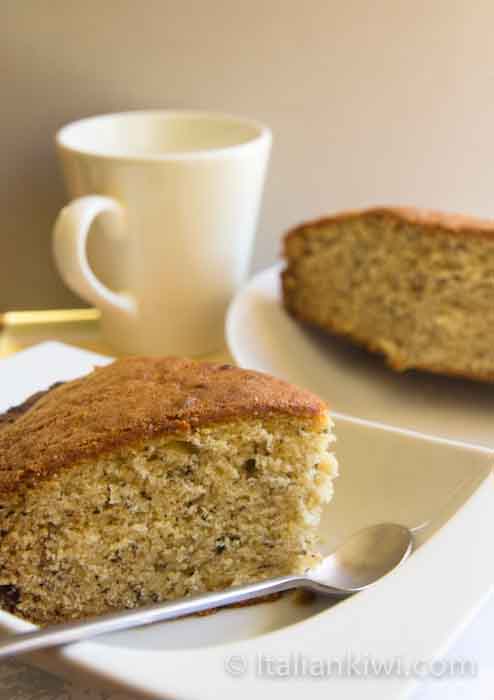 Banana cake is my favourite! What's yours?
I figured that I've been giving Italian recipes a pretty good run on my blog, so now it's time to add a few from New Zealand to balance the "Kiwi" bit of "Italian Kiwi". The first recipe I want to share with you is one which is still my very favourite cake to eat, even after all these years. Banana cake was my "go-to" birthday cake when I was a kid.  It was always my first choice, even over any kind of chocolate cake.   I've tasted (and gorged on!) way too many other cakes over the years, some of which were mind-shatteringly delicious, but when I want cake, banana cake always comes to mind first.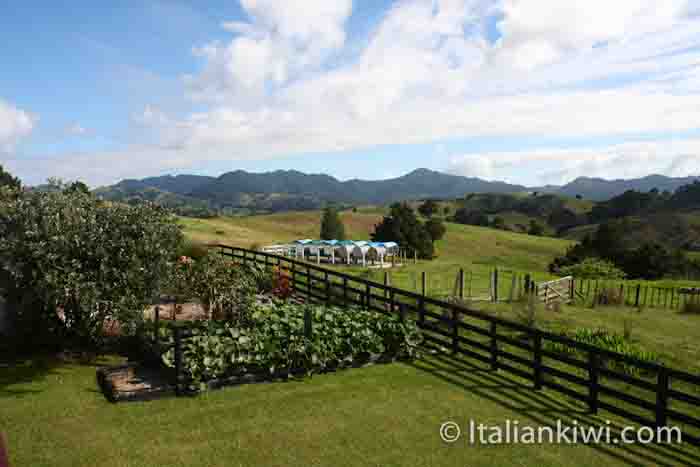 How Maui fished up the North Island of New Zealand
The photo above is taken from the window of the bedroom I slept in when I was a kid, and did a lot of illicit banana cake eating in. The range of hills you see there are called the Tangihuias.  The part of New Zealand I grew up in  is very hilly.  Maori legend tells us that Maui, this super-awesome guy who did all sorts of wonderful things like catching the sun and creating fire, fished up a giant fish with a magic fishhook smeared with his blood. This fish became North Island of New Zealand. His hungry brothers, who were hopeless at catching fish, didn't listen to Maui when he told them the priest needed to bless it  before it was cut up. While Maui was away getting the priest (who really should have been with him on the fishing trip I think!), the brothers started to sneakily eat the giant fish anyway.  This made the gods angry, so they made the fish writhe and thrash about, creating the hills that make up the North Island.  If it hadn't been for Maui's brothers, the whole island would've been flat. I have to say thanks to them as it made where I grew up much more beautiful! 🙂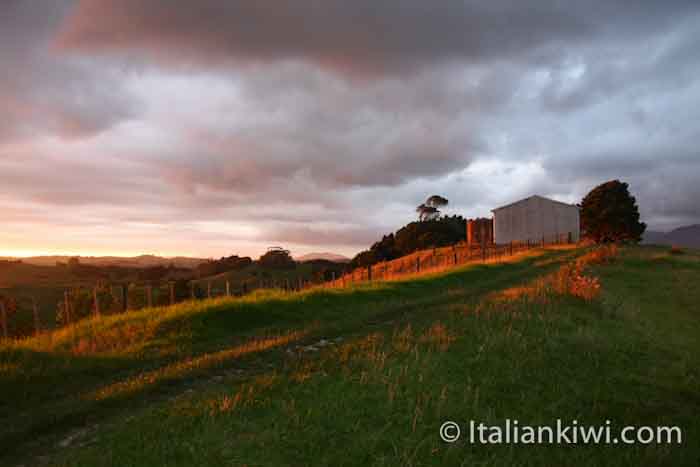 How ripe should the bananas be?
Just for the record, the colours in the photo above of the farm are real.  My husband took them during a lovely sunset last time we were down there. OK, now back to the actual subject of today's post: the banana cake! Yes, I know….the photo below of yucky brown bananas isn't that appealing, but I put it in to show you the perfect "ripeness" for making the cake.  The softer and browner they are, the better!  I often put bananas past their prime for eating into the freezer.  When you want to make the cake, you can just thaw them, then squeeze the insides into the cake batter.  I won't write here about the consistency of the thawed bananas, but just let's say that they're perfect when they drip everywhere.  (Important hint: thaw them on a plate)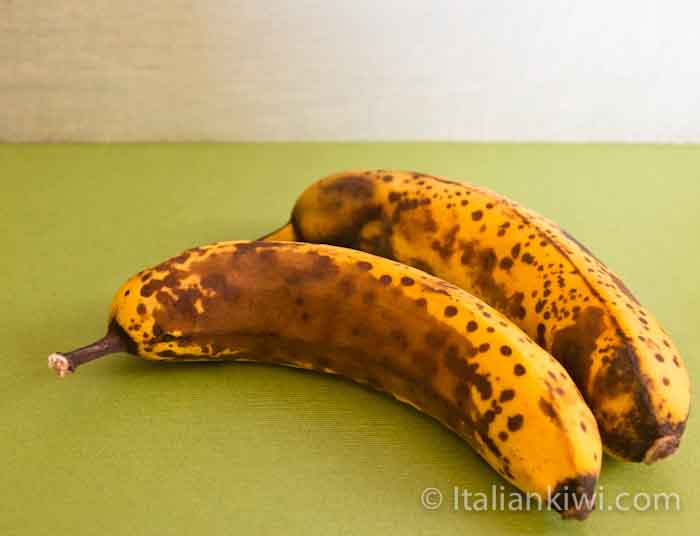 Finishing touches to the banana cake
You can eat banana cake as it is, with sifted icing sugar (powdered sugar) on top, or covered in chocolate or vanilla icing.  There have always been very deep lines drawn in the sand in my family about whether banana cake is better with chocolate or vanilla icing….I'm on the side of vanilla!
This recipe is slightly adapted from the bible of cooking in New Zealand: The Edmonds Cookery Book.  When I was a teenager, this cookbook is given to pretty much everyone when they moved away from home so that they didn't have to eat baked beans on toast every day.
By Lisa Watson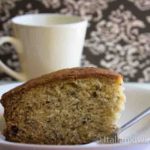 Print Recipe
Banana cake
Banana cake from New Zealand is a delicious recipe for using up over-ripe bananas.
Ingredients
125

g

Butter at room temperature

1stick; 1/2 cup; 4oz

160

g

Granulated white sugar

2/3 cup; 5.6 oz

2

Eggs

2

Bananas

large or 3 small

3

Tbsp

Milk

1

tsp

Sodium bicarbonate

250

g

All-purpose flour

2 cups; 8 oz

1

tsp

Baking powder
Instructions
Cream the butter and sugar in a standing mixture (or by hand) until white and fluffy.

Add the eggs, one at a time and beat well.

Mash the bananas, then add them.  Mix in.

Heat the milk to nearly boiling.  Add the sodium bicarbonate to it.  It should become a foam when you stir it.

Add this foam to the cake batter and mix.

Add the flour and baking powder and mix gently until it becomes incorporated.

Scoop the batter into a 25cm (10  inch) diameter greased cake tin.

Bake at 180ºC ( 350ºF) for 35 – 40 minutes until a cake tester comes out clean. Start testing at about 30 minutes, as it gets dry if cooked too long.

You can decorate it with icing sugar, or chocolate or white icing, or just leave it plain.  It's good every way!