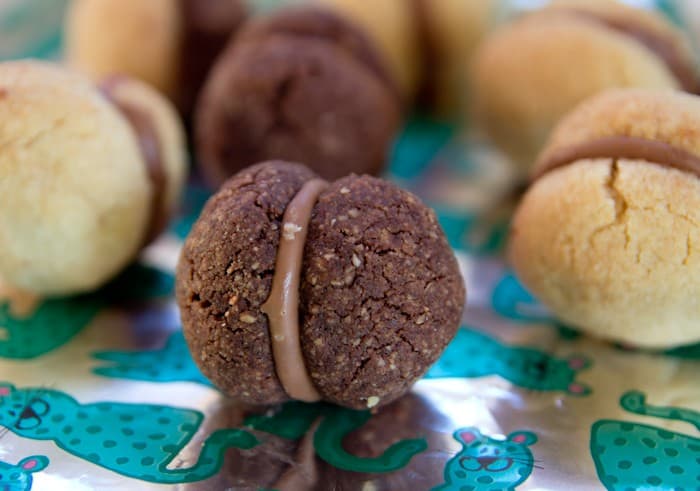 The joy of choosing tiny pastries
Baci di Dama are cookies that you find in pasticcerias all over the region of Piedmont in Northern Italy. We always choose to have a few when we go in to order a tray of pasticcini. I adore this Italian tradition of picking up a tray full of all sorts of tiny cookies and puffs filled with different flavoured creams whenever there is a special occasion!  I'm always very impressed by the people manning the pasticcini counters, as they have to be very patient with the customers.  The job for the customer of choosing which little cakes and cookies they want out of a selection of 20 to 30 different kinds is a very serious matter!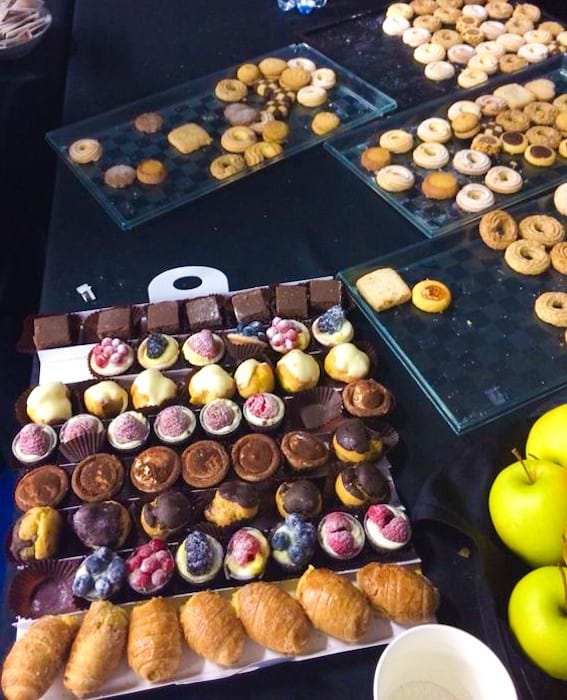 Tips for making Baci di Dama
In Turin, the Baci di Dama cookies can often be made to be nearly as small as your thumbnail. They're easy to make at home, but rolling the dough into balls to make them that tiny is beyond my patience level, so I made the cookies about the size of a walnut. If you make them smaller, make sure you also reduce the time that they spend in the oven.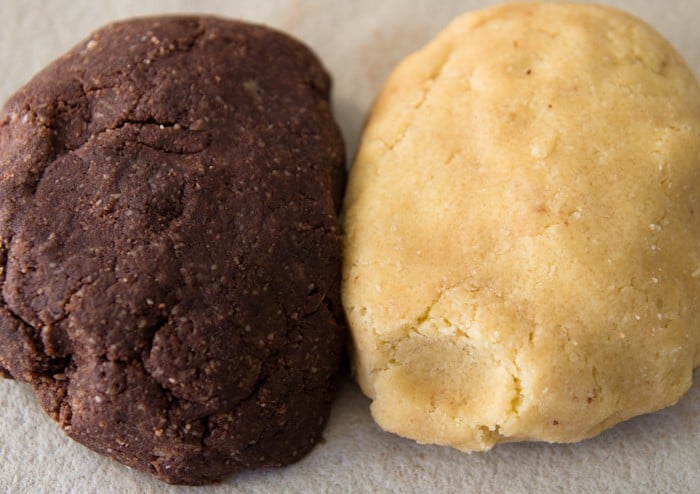 Which nuts to use to make Baci di Dama
The cookies can be made with hazelnuts or almonds.  They were originally made with hazelnuts, as hazelnuts are found in great abundance all over Piedmont.  That's also why Nutella, which originates from the same area, uses hazelnuts. I used almonds as I'm very lazy.  You can buy ready-made almond meal in the supermarket here in France, so there was no need for me to buy the nuts and grind them up! They taste equally good, no matter which nuts you choose!  I made half the dough chocolate, and left half as it is, but that is also up to you.  You can make the baci di dama dough all chocolate, or leave it as it is.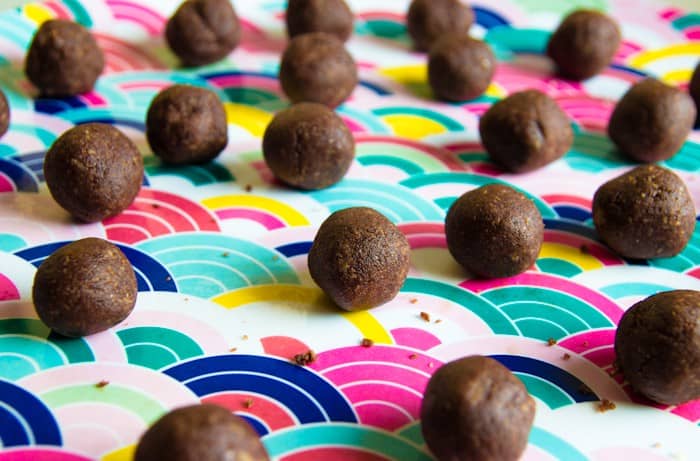 The cookies are held together by melted chocolate.  I laid a pair of chopsticks on a tray and then balanced the joined cookies between them until the chocolate had set.  If you lie them on their sides when the chocolate is still soft, they will fall apart!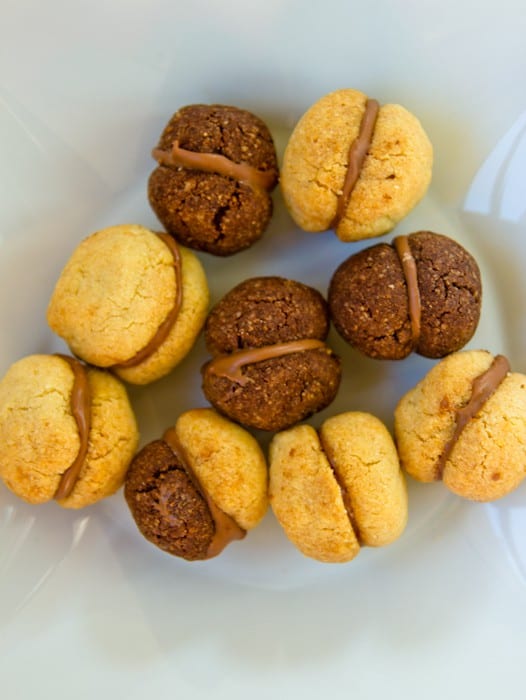 Travel Photo Of The Week
The photo below was taken in Turin last year at Christmas time (obviously!).  In the centre of Turin there are quite a few beautiful indoor arcades that you can walk through to get from one side of the block to the other.  We were strolling through one as we were on our way from having lunch in a lovely restaurant to having coffee at a great café when we stumbled on this fantastic Christmas tree.  The streets outdoors in the centre of Turin are lit up by different artists over the Christmas period as well.  It's definitely worth getting out into the cold to see!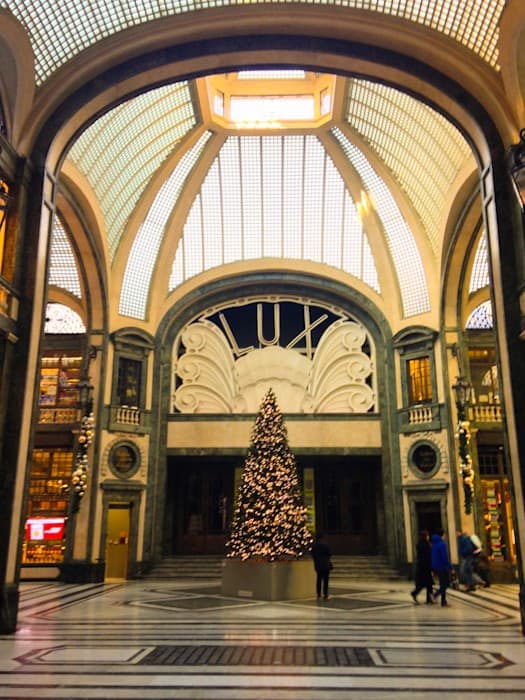 This post is part of the monthly link up for Cucina Conversations.  This month it's all about edible presents that you can make to gift to friends and family.
Check out the ideas and traditional Christmas recipes below from:
Rosemarie of Turin Mamma with Croccante di Mandorle
Francesca of Pancakes And Biscotti with Canederli
Carmen of The Heirloom Chronicles with Cicerata
Marialuisa of Marmellata Di Cipolle with Ciciarata
Daniela of Le Dani Gourmet with Ricciarelli cookies
and Flavia of Flavia's Flavours with Pizzelle.
Merry Christmas everyone!
By Lisa Watson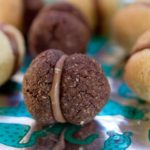 Print Recipe
Baci di Dama cookies from Piedmont, Italy
Baci di Dama From Piedmont, Italy can be easily made at home. Find the recipe here!
Ingredients
150

g

Ground Almonds

1 1/2 cups

150

g

All-purpose flour

1 cup

150

g

White Sugar

1 1/4 cups

2

Tbsp

Cocoa Powder

150

g

Butter at room temperature

2/3 cup, 5 1/4 oz

100

g

Chocolate

2/3 cup, 4 oz
Instructions
Heat the oven to 180°C /350°F.

Mix all the dry ingredients, except the cocoa powder, together.  If you cannot find almond meal, grind up whole, peeled almonds in a blender until you have a fine mix and use those.

Add the butter and work it into the dry ingredients using either a standing mix or your hands.

Separate the dough into two roughly equals portions and add the cocoa powder to one of the balls. Knead it into the dough.

Break off small pieces of the dough and roll it into balls.  Place them on a cookie-tray lined with baking paper.Push the balls down gently so that a flat bottom forms.

Bake for 15 minutes, then leave to cool for at least 1 hour.

Melt the chocolate over a very low heat. Spread some of the chocolate on the flat side of one cookie and stick it to another one about the same size. Put them gently on a tray covered in baking paper and leave them to set.